My Story
Prevention Saves Lives
Director Janet McGinnis and the team at SLV Health Imaging were a huge support to Christy Smith in May of 2019. Two years after her mother was diagnosed with breast cancer, she got the call to return for additional tests after completing her own screening mammogram. "A colleague asked me what I was doing for self-care, and upon reflection, I decided I better schedule both my bone density test and my annual mammogram," reflects Christy Smith, "and I was more concerned about the bone density than the mammo."
​
Mammography Technologist Barbara Carlsen from the SLV Health's Stephanie L. Miner Women's Imaging Center followed up with Christy after the new 3-D machine detected a spiculated mass. Upon following up with more tests, Christy underwent a biopsy, and it was confirmed that they had found early-stage breast cancer. She proceeded with a lumpectomy and radiation to get the cancer under control. "What most people don't understand is the number of tests, follow up, and continual monitoring that takes place once cancer is detected," commented Christy. She is appreciative of the whole care team, from Janet's team to Radiologist Dr. Jasen Allen, to Dr. Penny Cooper and the Southern Colorado Breast Center team. "I am confident that my cancer may have gone undetected in a traditional 2-D x-ray. I tell all my patients to get the 3-D mammogram, every year that they are eligible," said Christy. Christy Smith is a Family Nurse Practitioner for Valley-Wide Health Systems serving the residents of Costilla County out of the San Luis Health Center. "I have a lot of joy to share with others and a lot more living to do, and I'm thankful for this type of advanced technology and the care teams," concluded Christy, "And, I'm thankful for Marco for prompting me to take care of myself, too."
---
John Bricker's Story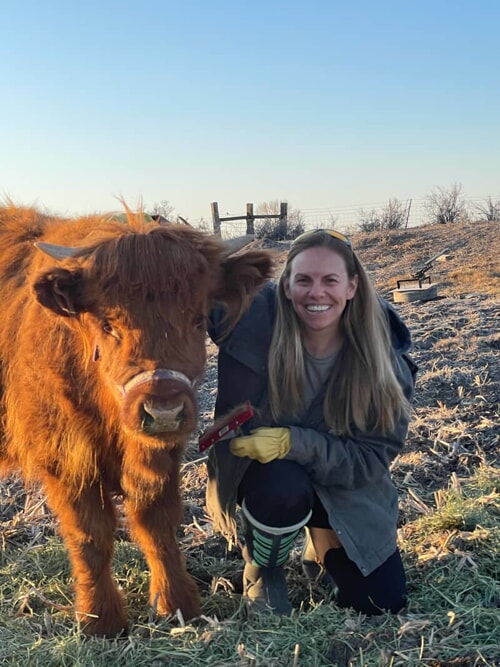 The San Luis Valley Health Orthopedics department, comprised of Carissa Tripi, DO, Jason Defee, MD; Jeffrey Oster, DO; Laticia Hollingsworth, PA-C, ATC, CAQ, and Haley Ballinger, PA-C, works closely with the Sports Medicine Team, SLV Health's Chiropractor, Aaron Polzin, DC, and the Physical Therapy providers in order to help patients get their lifestyle back and manage or treat their pain or injury. "While surgery is sometimes required to treat serious conditions of the musculoskeletal system, this should be your last resort for treatment. Surgery is often effective, but it can be demanding physically and it will take time to fully recover when the operation is over," commented Tripi. "After we explore conservative, noninvasive treatments, surgery is sometimes the best solution. In the case of Mr. John Bricker, he was an excellent candidate for a double knee replacement surgery. One of the reasons his procedure was so successful is because Mr. Bricker fully committed to his post operative physical therapy. He was very determined to resume his active lifestyle! Working with patients like Mr. Bricker is an incredible honor because I get to see people change and improve the quality of their life. I have a great team at SLV Health and can't imagine a better place to work or a better team to work with."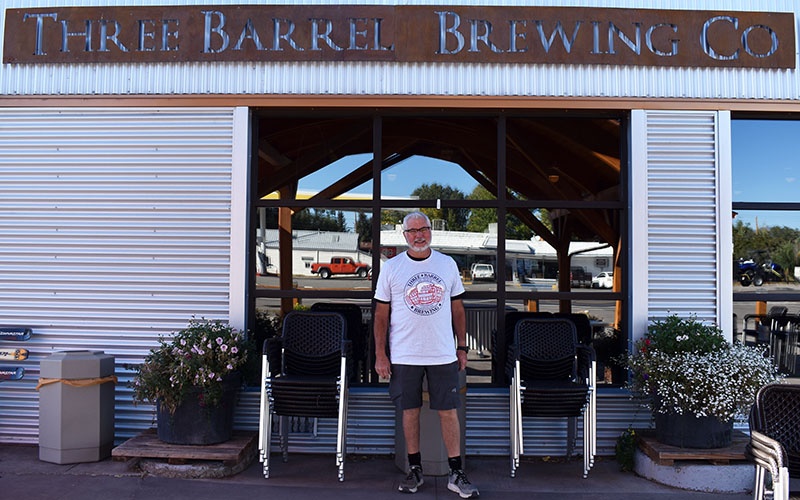 ​​"I wasn't sure I would be able to work at the brewery any longer, I was in too much pain," reflected John Bricker, Owner of Del Norte's Three Barrel Brewing Company. "When my wife Pam and I decided to explore surgical solutions, we went on a fact-finding mission around the region. Within minutes of meeting with Dr. Tripi, I knew she was the one I could trust." John eventually had double knee replacement surgeries at San Luis Valley Health's Regional Medical Center, including pre-surgical x-rays and post-surgery therapy. "I was so happy to be back at work, to have my lifestyle back, even better than before. Now I have the strength to walk, hike, and be on my feet all day long without suffering. My friends and neighbors were surprised when they saw me walking down the street!" Bricker is a well-known businessman in the town of Del Norte, just 35 miles west of Alamosa. "Staying close to home ended up being another benefit for my family as they cared for me during the recovery process. The whole SLVH team, the nurses, the surgery center, Dr. Tripi and her staff, I can't say enough good things about them. Their caring approach was no-nonsense. They answered all my questions and helped me get back to my job serving my customers at Three Barrel. I was surprised how little pain I experienced and how much more energy I have. Cheers to Dr. Tripi, she is the best!"
This is part of the #MyStory series by SLVH. If you have a story you would like to share, please visit SLVH.org and submit the "Contact Us" form and check "Patient Experience."
---
Trauma Services Put Patients First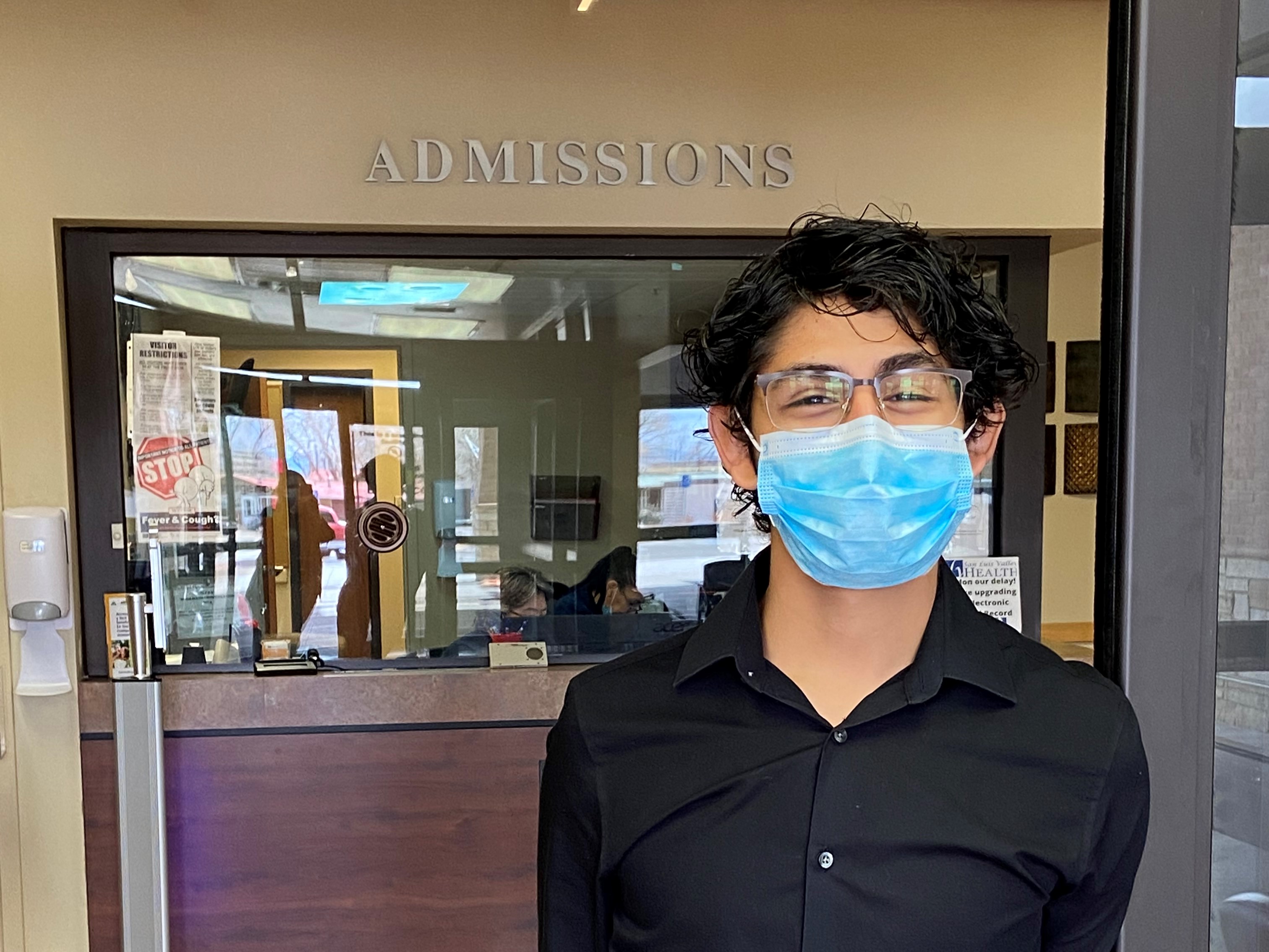 ​​​Oscar Martinez, a senior at Adams State, stands near the emergency room at SLV Health. In 2019, Martinez was involved in an accident, and the trauma team was able to stabilize him until he was flown out. The trauma team recently received high marks during its trauma survey, affirming Level III trauma standing for the next three years.
In 2019, Oscar Martinez, an Adams State student, was in the garage working on the family car. His mother was planning a trip, and he wanted to check and make sure everything was functioning properly. What the family wasn't planning on was a frantic trip to SLV Health Regional Medical Center's emergency room just a short time later.
While checking the brakes, the jack holding up the front of the car gave out, sending the car down on Martinez's upper body and head, resulting in multiple fractures. His father lifted the car enough for his mother to pull out Martinez's unconscious body, and the couple drove him straight to the hospital.
Martinez was quickly evaluated and stabilized by the trauma team at SLV Health and transferred to a higher level-of-care facility for continued treatment.
"The doctors and staff were honest and upfront about my injuries when speaking to my family," Martinez said. "They didn't sugarcoat it, and my family appreciated how honest they were with them."
The patient-centered care that Martinez and his family received that day is just one example of the level of care that takes place during some individual's worst moments. A recent trauma survey done at the regional medical center affirmed the hospital's Level III trauma standing for the next three years, indicating that the trauma services offered are patient-centered and provide appropriate trauma services on a local level. Comments from the survey team with the Colorado Department of Public Health and Environment included supportive statements such as, "You have an incredibly robust trauma program."
They went on to say that the SLVH's trauma team, led by Julie Ramstetter, RN and Trauma Services Coordinator, and David Geiger, DO, offer "a very solid resource for our region."
"This survey reassures our direction under the capable leadership of Julie Ramstetter and Dr. Geiger," said Konnie Martin, CEO of SLV Health. "A special thank you goes out to our staff in responding to this survey, especially by making it interactive using remote technology, as the review utilized a combination of onsite, offsite, and teleconferencing interviews. The results mirror our commitment to providing excellent service close to home and affirm our Level III trauma standing for the next three years."
Now, Oscar Martinez only has a small recollection of that fateful day. Some lingering nerve damage to the left side of his face took a short time to correct and now, two years later, he's doing well. Currently a senior in business administration at Adams State, he is looking forward to graduation in the summer.
"I remember waking up, and asking what happened," Martinez said. "The nurse told me, 'You're lucky to be alive.' Now I'm looking forward to whatever comes next."
This is part of the #MyStory series by SLVH. If you have a story you would like to share, please visit SLVH.org and submit the "Contact Us" form and check "Patient Experience."
---
On The Road To Recovery - One Heartbeat at a Time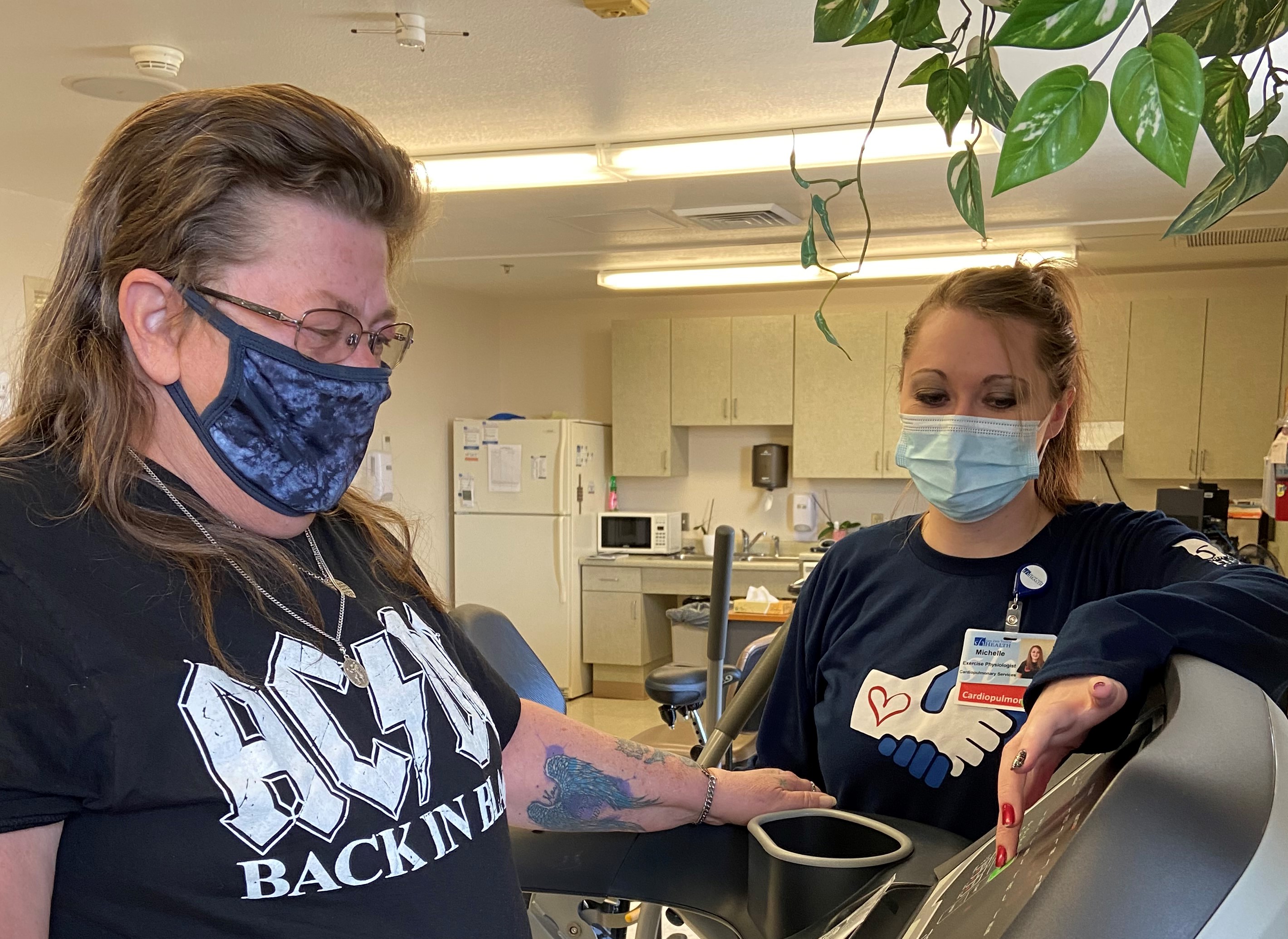 ​​​Blanca resident Vivian Jones works on her cardiac rehab with Cardiopulmonary Rehab Exercise Physiologist Michelle Crowther at SLV Health in Alamosa.
Vivian Jones realized something was wrong last year when she couldn't catch her breath. A visit to SLV Health Regional Medical Center revealed that she had a clogged artery, and was in need of heart surgery to save her life. Now, thanks to the cardiac rehabilitation team at SLV Health Regional Medical Center, this Blanca resident is on the road to recovery.
It was doing simple things like walking that made Jones realize there was an issue. "Just walking made my heart race and I became very short of breath," she explained. She visited SLV Health to find out what was going on. "That's when I took – and failed – two stress tests."
Dr. James Grigsby and Physician Assistant Brendan Simenc discovered that Jones had a clogged artery, and referred her to have surgery in November to have a stent inserted. "They were very helpful and caring," she said.
After her surgery, an important part of Jones' recovery now is cardiac rehabilitation. She chose to complete her recovery at the cardiac rehabilitation center at SLV Health in Alamosa, where trained staff are taking her through a medically supervised program tailored to her strengths and weaknesses. This is done on an outpatient basis, so Jones visits the cardio rehabilitation department two to three times a week for 12 weeks.
The department has a multitude of different equipment designed to help strengthen the cardiovascular system. It is there, after a small warm up, she lifts weights before doing short stints on the exercise bike and treadmill. But the program is more than just physical activity. There is also plenty of educational opportunities about how to eat healthy foods, taking medicine correctly, reducing stress and other healthy living counseling.
This is her first time experiencing cardiac rehabilitation, and Jones says it feels good. "I am learning a lot," she said. She went on to credit the staff for being very helpful and caring. "They work hard to make everyone here feel comfortable."
Jones had especially kind words for one particular exercise physiologist – Michelle Crowther. "She is just awesome," she said. "I can't really express how wonderful Michelle is."
Born and raised in Sanford, Crowther was hired by SLV Health in 2019. While at Adams State working towards her degree in exercise science, she worked in the cardiac and pulmonary rehabilitation department for her practicum and loved it. "Cardiopulmonary Rehab has been my dream job ever since, and I am very grateful to be here now."
As a cardiopulmonary rehab exercise physiologist, she enjoys meeting and learning from all the individuals who participate in the rehabilitation programs. "I love helping people feel better," she explained. "We spend several weeks together, so we get to know each other very well."
Crowther especially enjoys seeing a patient's energy return while going through the program. "I love seeing and hearing about each patient's progress and successes they have had due to their hard work and efforts," she said. "While we work, we listen to good music, share stories, tell jokes and most importantly, heal both physically and mentally. It is an absolutely beautiful experience."
This is part of the #MyStory series by SLVH. If you have a story you would like to share, please visit SLVH.org and submit the "Contact Us" form and check "Patient Experience."