10 Year Anniversary Celebration
Eagle Air Med and San Luis Valley Health recently celebrated their 10-year partnership providing access to critical air transport. 
Wednesday, an anniversary celebration was held at the SLV RMC Conference Center. Eagle Air presented the San Luis Valley Health Board of Trustees and Senior Team with hand painted ceramic works created by a Navajo artist. SLV Health CEO, Konnie Martin presented Eagle Air with a plaque in celebration of the decade long partnership. SLV Health employees were invited to join in on the celebration as food and drinks were served and Eagle Air Med t-shirts and sweatshirts were given out.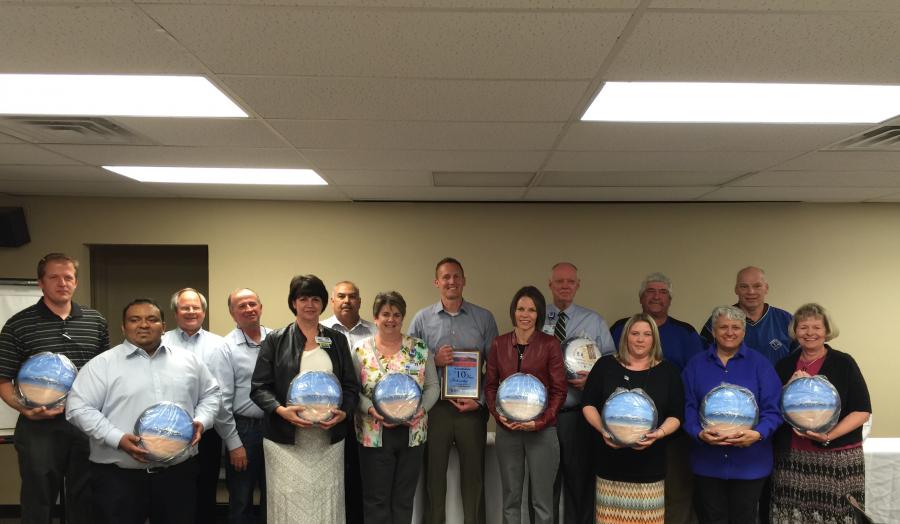 SLV Health Board of Trustees and Senior Team Pose with Shanon Pollock,(center) VP of Business Development at Eagle Air Med
Ted Anderson, Director of Emergency Medical Services explains, "Eagle Air Med has been instrumental in our increased patient care. Not only do they provide great service to the entire valley, but they have also been able to decrease response time by an hour and are able to fly in more adverse weather."
Out of all the agencies they have partnered with, Eagle Air Med really values their ongoing relationship with SLV Health.  They continue to be a lifeline to our patients by working closely with all three SLV hospitals.
Pictured from left to right: Kyle Palmer, Regional Business Development Specialist, Mike Brown, Program Director, Konnie Martin, SLV Health CEO, Karla Hardesty, SLV Health Board President, Shanon Pollock, VP Business Development, Jon Fouser, Clinical Care Supervisor, Julia Azua, Regional Program Director, Beverley Gonzales, Compliance