Podiatry
Treatment for Foot & Ankle Problems
Podiatry is a branch of medicine devoted to the study of, diagnosis, and medical and surgical treatment of disorders of the foot, ankle and lower extremity. Foot and ankle care and surgery is provided by Podiatrist Gregory Still, DPM, FACFASserving all counties of the San Luis Valley.
What Is a Podiatrist?
Podiatrists complete 4 years of podiatric medical school. During that time they study physiology, anatomy, biochemistry, pharmacology, histology, microbiology, neurology and vascular medicine. The first two years of podiatric medical school focus on basic sciences. In the third and fourth years, podiatric medical students begin to focus training on the lower extremity. Classes include biomechanics, sports medicine, and human motion.
Every podiatric medical student travels the country, and even the world, completing rotations in sports medicine, surgery, and limb salvage. Upon completion of state licensure, podiatrists join the professional category of physician.
Podiatrists treat foot and ankle disorders including:
Overuse injuries including plantar fasciitis, tendinitis and stress fractures
Sports injuries such as sprains, strains, and fractures
Bunions, hammer toes, tailor's bunions and, metatarsalgia
Nerve injuries including tarsal tunnel syndrome, Morton's neuroma, and peripheral neuropathy
Dermatology problems including rashes, tumors, calluses, lacerations and nail problems
Orthopedic problems including tendon ruptures, arthritis, joint subluxation and fractures
Foot orthotics and lower extremity bracing for injuries, arthritis and acquired deformities
Additional Care Provided by Podiatrists
Performance optimization
Gait analysis
Prescription orthotics
Shoe optimization and pairing with activities
Motion analysis
Repetitive use injuries:
Plantar fasciitis
Achilles tendinitis
Partial Achilles tendon tears
Metatarsal stress fractures
Posterior tibial tendinitis
Shin splints (anterior tibial tendinitis)
Sports trauma:
Achilles tendon ruptures
Ankle fractures
Ankle and foot sprains
Stress fractures of the heel
Podiatric Surgery
Procedures performed endoscopically include:
Plantar fasciotomy for plantar fasciitis
Ankle arthroscopy for ankle injuries and arthritis
Nerve decompression for Morton's neuroma
Endoscopic gastrocnemius recession for equinus and chronic Achilles tendinitis
Additional procedures:
Foot and ankle fractures (forefoot, midfoot, rearfoot and ankle)
Tendon ruptures (peroneal tendon, posterior tibial tendon, and Achilles tendons)
Osteochondral lesions of the talar dome.
Lisfranc's dislocations and fractures
Bunions
Hammertoes
Calluses
Saddle bone deformities
Haglund's deformity
Dr. Gregory Still offers podiatry and foot care coverage at San Luis Valley Health. Serving a diverse population and wide age range, Dr. Still has experience providing foot and ankle care in private practice in the past and has specialized in foot and ankle surgery.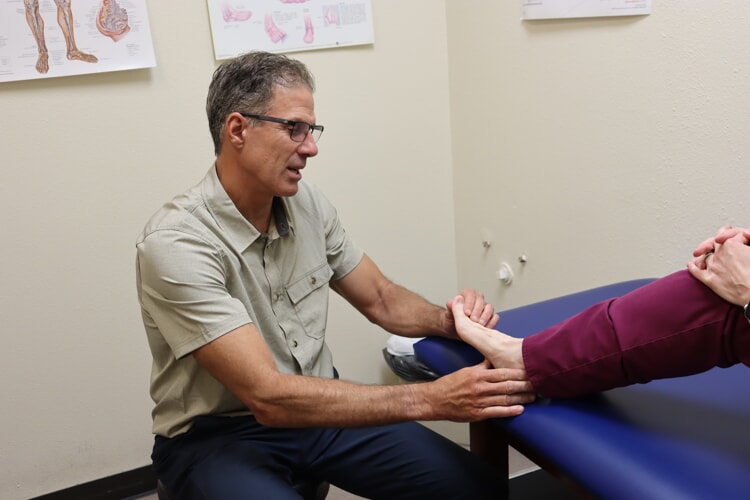 Podiatry services are available at Stuart Ave Clinic as part of orthopedic care. You can contact us at (719) 589-8091. Our fax number is (719) 589-8112.