Physical Therapy
Comprehensive Rehabilitation Services
SLV Health Pro Therapy can help to address a wide spectrum of disabling injuries, illnesses and chronic conditions. Our primary goal is to restore function, reduce pain and other disabling symptoms, and, ultimately, improve you or your loved one's quality of life.
Our team includes licensed Physical Therapists, Occupational Therapists, and Speech-Language Pathologists as well as physicians who specialize in Orthopedics, Occupational Medicine, and Physical Medicine and Rehabilitation (PM&R). Click here for a full list of therapists by name and location.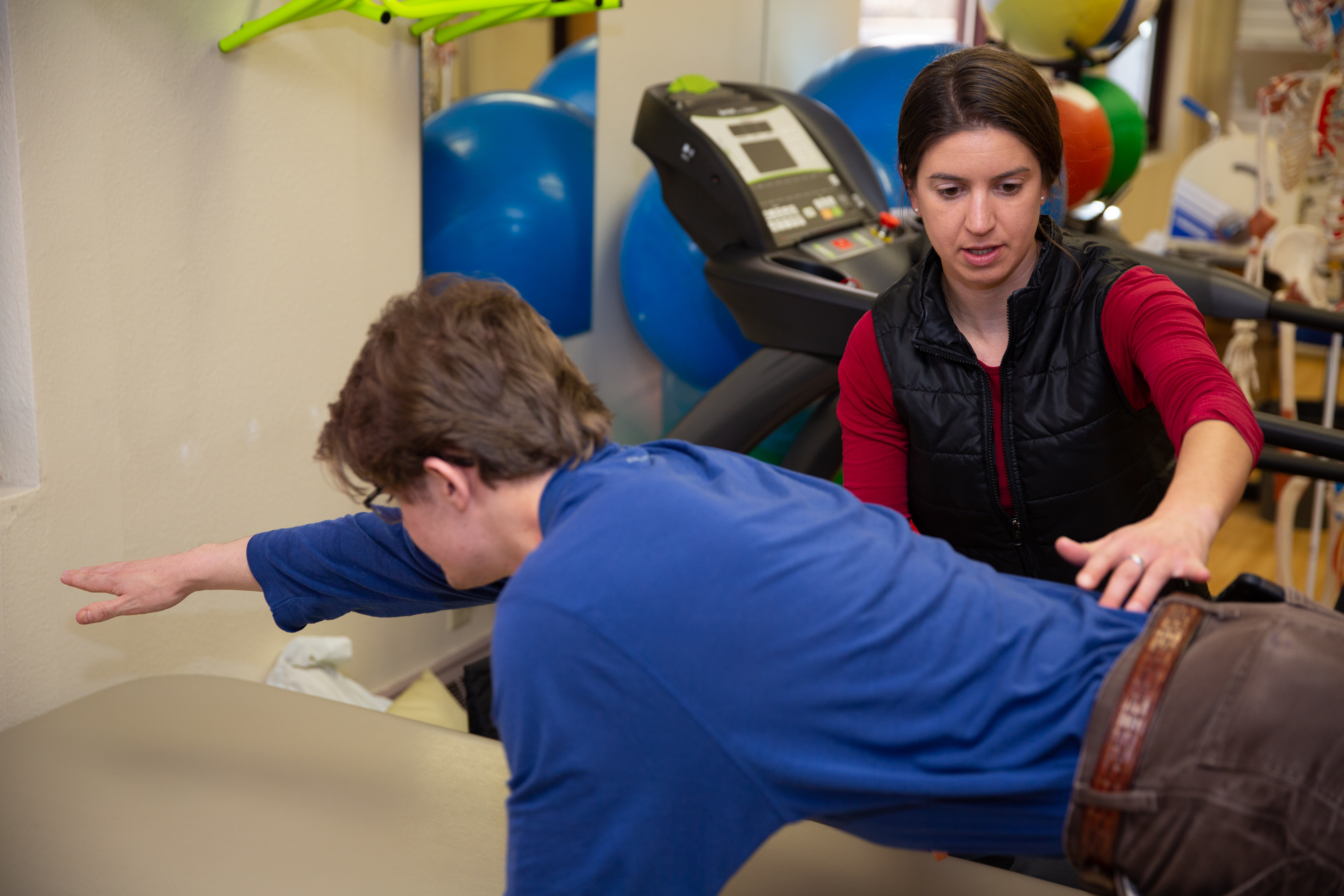 SLV Health Therapy Services
Our diverse group of experienced therapists is able to meet a wide variety of needs for the San Luis Valley community. Please feel free to contact us with questions or concerns.
Our areas of specialization include:
Adult Speech/Language Therapy & Swallow Studies
Hand Therapy
Lymphedema Therapy
Occupational Therapy
Pediatric Therapy: Feeding, Physical, Occupational, and Speech/Language
Pelvic Health Physical Therapy
Physical Therapy
Consider seeking our services if:
You had an accident or you have an injury or chronic condition that has left you with pain or limited function
You are contemplating or recovering from surgery
You have an illness or treatment for an illness that has decreased your ability to move easily
Life changes such as childbirth or menopause have created new challenges to your physical function
You're recovering from the effects of a stroke or other problems related to nerve damage
You have chronic pain from arthritis, a repetitive stress injury, or back problems
Excess weight makes it difficult to exercise or has caused health problems
Developmental delays make daily activities difficult for your child
You or your child need to improve your communication skills
Conditions We Can Help With
We can help to address a wide variety of conditions. Among the more common are:
Acute Injury
Autism Spectrum Disorder
Carpal Tunnel/Tennis Elbow
Cervical pain
Childhood Apraxia of Speech
Chronic Pain
CVA--Parkinson's Disease, MS, ALS, Spinal Cord
Developmental Delays in Children
Dysphagia/Swallowing Disorders
Expressive/Receptive Language Disorders
Feeding/Swallowing Disorders
Gait/Balance Disorders
General Pain/Difficulty Moving
Hand Injury
Lower back pain
Neurological Conditions
Orthopedic Conditions
Osteoarthritis/Rheumatoid Arthritis
Osteoporosis
Pelvic & Women's Health PT
Recovery from Surgery
Sensory Processing Disorder
Sensory Processing Disorder in Children
Speech Sound Disorder
Sports Injury
Traumatic Brain Injury
Urinary/Fecal Incontinence
Vertigo (including BPPV, dizziness)
Voice Disorder
Services We Offer
We offer many different rehabilitation and physical medicine services, always tailored to your particular condition and designed to help you meet your personal goals. These include:
Biodex for Balance Training
Biofeedback
Body Weight Support Systems
Core Training
Electrical Stimulation/NMES/IFC/TENS
Functional Dry Needling
'Game Ready' Vasopneumatic Cold Therapy
Iontophoresis/Phonophoresis
Kinesio-Taping
Manipulation and Mobilization
Manual Therapy
Muscle Stability Retraining
Neuro-Muscular Re-Education
Postural Retraining
Therapeutic Exercise / Aerobic Exercise
Ultrasound and Infrared Imaging
VITAL Stimulation and Deep Pharyngeal Neuromuscular Stimulation for Swallowing
Hand Therapy
Hand therapy is the art and science of rehabilitation of the upper limb, which includes the hand, wrist, elbow, and shoulder girdle.
It is a merging of occupational and physical therapy theory and practice that combines comprehensive knowledge of the structure of the upper limb with function and activity.
Using specialized skills in assessment, planning, and treatment, hand therapists provide therapeutic interventions to prevent dysfunction, restore function and/or reverse the progression of pathology of the upper limb in order to enhance an individual's ability to execute tasks and to participate fully in life situations.
Conditions appropriate for hand therapy include, but are not limited to:
Traumatic injuries of tendons, ligaments, nerves, joints and bones
Cumulative trauma disorders such as tenosynovitis, nerve compressions (carpal tunnel) and painful syndromes
Arthritis
Contractures
Fractures
Congenital abnormalities
Pain syndromes
Hand therapy treatments offered:
Wound and scar management
Manual Therapy
Swelling control
Pain management
Sensory re-education
Range-of-motion and strengthening exercises
Splinting
Activity of daily living training
Lymphedema Therapy
Lymphedema is a swelling of a body part, most often the extremities. It may also occur in the face, the trunk, the abdomen or the genital area. Lymphedema is the result of an accumulation of protein-rich fluid in the superficial tissues, which can have significant pathological and clinical consequences for the patient if left untreated. Once present, this chronic and progressive condition will not disappear by itself.
Although there is no cure for lymphedema, Complete Decongestive Therapy (CDT) can help. CDP works to reduce the swelling and to maintain the reduction. Treatment consists of two phases and the following combined modalities: Manual Lymph Drainage, Compression, Exercises, and Skin Care. A licensed Physical Therapist trained in Lymphedema Therapy conducts this type of treatment. Click here to learn more about Lymphedema Therapy.
Occupational Therapy
Occupational therapy helps people across the lifespan to participate in everyday activities that they want and/or need to do. Occupational therapy is useful for people recovering from an injury to regain skills. It can also help older adults cope with physical and cognitive changes. Occupational therapy can help children with disabilities achieve maximum participation in school and social situations. For more information on pediatric occupational therapy, click here.
Physical Therapy
Physical therapy treats disease, injury, or functional impairments by utilizing evidence-based treatments. You may benefit from physical therapy if health problems make it hard for you to move around and do everyday tasks, if you have suffered a sports-related injury, or if you have recently had surgery. Physical therapy can improve mobility and function as well as relieve pain. For more information on pediatric physical therapy, click here.
Speech Therapy & Swallow Studies
Our Speech-Language Pathologists are dedicated to helping adults and children improve their communication skills in all environments. Speech-Language Pathologists treat disorders that make it hard for individuals to communicate effectively and to swallow safely. For more information about pediatric speech therapy, click here. For more information about speech/language/swallowing therapy for adults and Modified Barium Swallow Studies, click here.
Physical Therapy services are offered at:

Stuart Avenue Clinic. Call (719) 589-8100 to make an appointment. Our fax number is (719) 589-8101.

Monte Vista PRO Therapy. Call (719) 852-5144 to make an appointment. Our fax number is (719) 852-5145.

Conejos County Hospital. Call (719) 274-6025 to make an appointment. Our fax number is (719) 274-6044.