SLV Health Opens Respiratory Clinic during COVID-19 Pandemic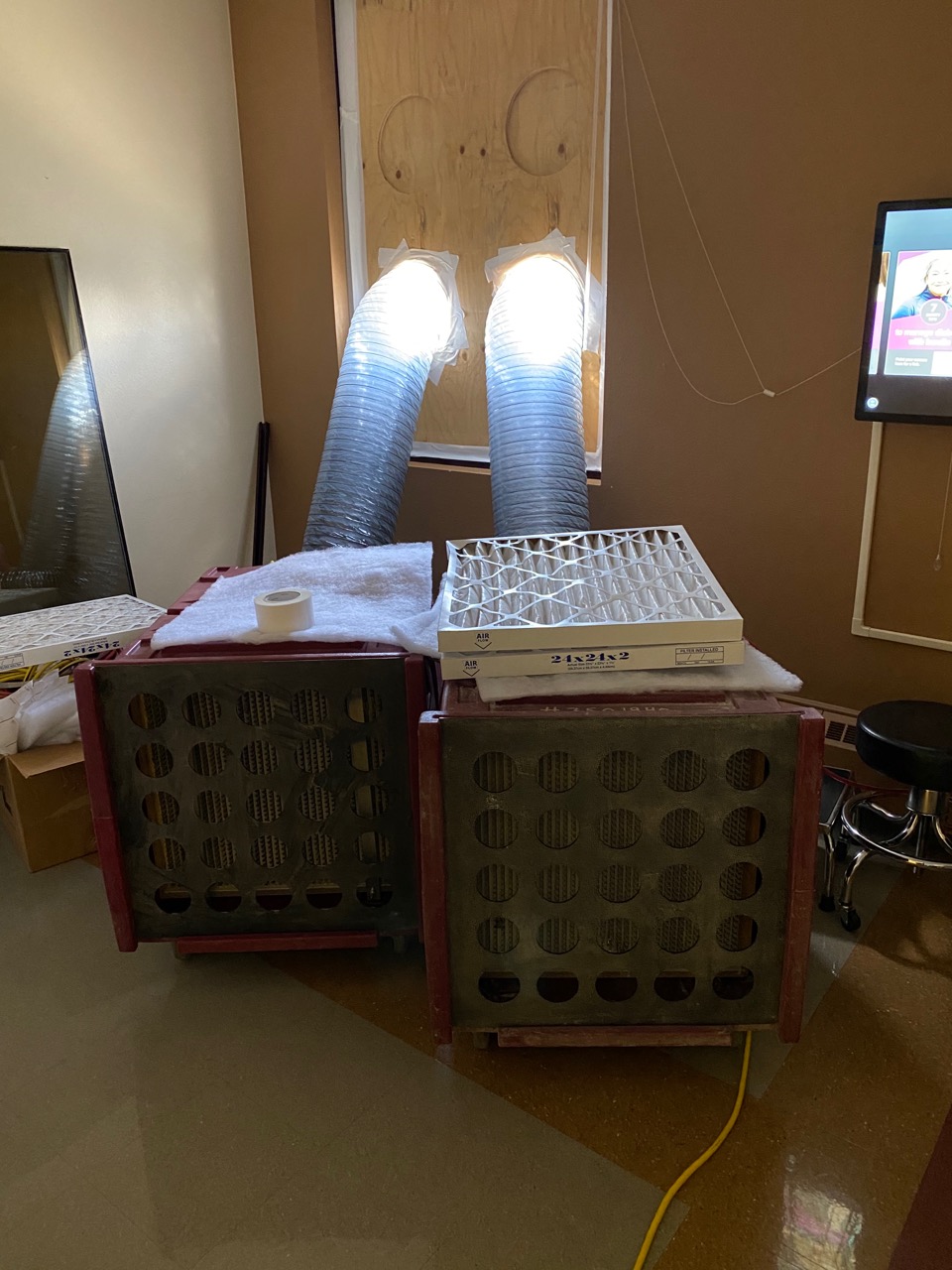 Photos Above: (L) Mallori Gariner, FNP-C, and (R) Beth Vigil, Medical Assistant and a photo of the negative pressure ventilation unit at Stuart Ave Clinic in Alamosa, Colorado.
San Luis Valley Health has successfully launched its Respiratory Clinic. The clinic, located at 2115 Stuart Ave in Alamosa, was created to triage and treat anyone who has clinical symptoms of COVID-19. These symptoms include, but are not limited to, cough, fever, and fatigue.
SLVH created an isolated space with fully functioning negative pressure ventilation in place. It is staffed by primary care providers who are dedicated to slowing the spread of the virus. The providers educate the public, give advice, answer questions and in large part, "treat from afar." The goal is to keep people safe at home.
After being open for a complete week, staff observed that the majority of patients need symptomatic care and treatment: cough and cold medicine, rest, hydration, and exercise as tolerated (to keep their immune system strong and to keep from being inside all day). Some patients have required prescription medications such as Flonase and Albuterol, and if it is safe for the patient, the prescriptions have been sent to the pharmacies without seeing the patient face-to-face.
This is the viral season in Colorado, apart from COVID-19, so providers are also screening and testing for other viruses like influenza.
The very best way to control the transmission of this virus is to KEEP YOUR PHYSICAL DISTANCE FROM EACH OTHER AND WASH YOUR HANDS FREQUENTLY.
All calls are triaged which means that priorities for care, treatment, and follow-up are based on the level of illness that is presented. If needed, patients are scheduled to come to the respiratory clinic in person. "Rest assured, if we need to see you, we will bring you in and do whatever is needed. If you need emergency treatment, we will refer you to our emergency department," commented Susannah Perkins, DO, San Luis Valley Health Primary Care.
NOTE: At the time of this press release, due to limited resources, SLV Health can only submit COVID-19 tests for hospitalized patients and healthcare workers.
Do not come in person to the clinic or any healthcare facility unless you have called ahead.
Please call (719) 589-2511, press 9. The nurses are staffing this number every day from 7 a.m. to 7 p.m. If you get the voicemail, please leave a good callback number and clearly state your name, leaving only one message. If you feel you are having an emergency, please call 911.