Celebrating SLV Health Nurses Week 2020 - Andrea Garcia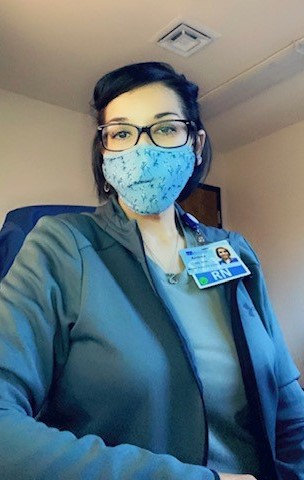 Andrea Garcia, RN, BSN, works at San Luis Valley Health Clinic Monte Vista, and is one of the many nurses being celebrated from Nov. 1 through Nov. 7.
     San Luis Valley Health is celebrating and thanking their nurses from Nov. 1 through Nov. 8. Nurses' Week is traditionally held in May, but due to so many changes with COVID, the celebration was delayed. What a perfect time, now in the month of giving thanks, that nurses are celebrated. A special thank you goes out to SLV Health's team of Registered Nurses (RNs), Licensed Practical Nurses (LPNs), Certified Registered Nurse Anesthetists (CRNAs), Nurse Practitioners (NPs or aka Advance Practice Registered Nurse), and Certified Nurse Midwives (CNMs).
It's the Little Things That Make a Difference
Andrea Garcia, RN, BSN, works in the San Luis Valley Health Clinic in Monte Vista, and has always enjoyed helping people.
"I was a Certified Nursing Assistant for nine years, then went to school for nursing," she explained. "For the past six years I have worked as a Registered Nurse."
Garcia chose nursing as her career path because she always enjoyed what nurses do.
"Nursing is one of the most respected professions," she said. "Knowing that my care, touch, voice and time can make a patient's day a little easier is one of the most rewarding feelings. Sometimes, it's the little things you do for a patient that makes a difference."
What she loves about nursing is that it's constantly evolving.
"There are so many things that you can do in the profession, so you don't have to stick to one specialty," Garcia said.
Her advice for those thinking about becoming a nurse is to follow their passion.
"You just have to follow your passion and purpose and stay true to yourself," she said. "I work in the Monte Vista Clinic, and love that I am able to help a rural area and be part of an amazing family in this building. I am truly blessed with amazing coworkers."