Celebrating SLV Health Nurses Week 2020 - Bethany Caton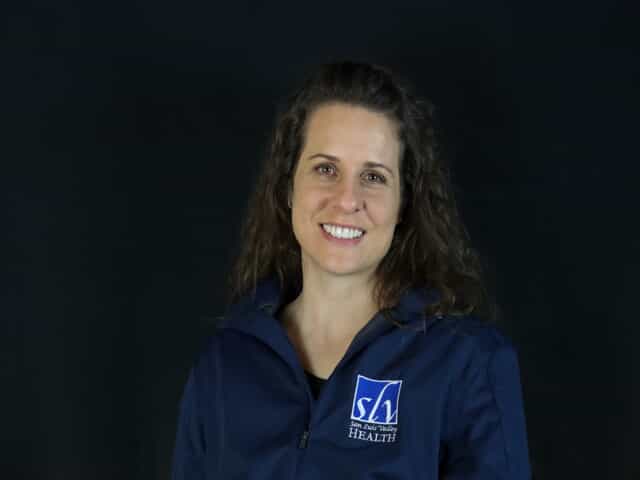 Bethany Caton, Nurse Practitioner, is one of the many nurses being celebrated from Nov. 1 through Nov. 7.
San Luis Valley Health is celebrating and thanking their nurses from Nov. 1 through Nov. 8. Nurses' Week is traditionally held in May, but due to so many changes with COVID, the celebration was delayed. What a perfect time, now in the month of giving thanks, that nurses are celebrated. A special thank you goes out to SLV Health's team of Registered Nurses (RNs), Licensed Practical Nurses (LPNs), Certified Registered Nurse Anesthetists (CRNAs), Nurse Practitioners (NPs or aka Advance Practice Registered Nurse), and Certified Nurse Midwives (CNMs).
Doing Important Work Every Day
Bethany Caton, a Nurse Practitioner at SLV Health, sees the importance of nurses now more than ever.
Growing up, Caton didn't have exposure to the medical field, but learned firsthand how important nurses are when she had her son three months premature.
"When I was determining my professional path, I recollected that importance," Caton said. "Truly wanting to be able to help people, I thought nursing was something that would come almost naturally for me. That is how I began my path in nursing."
Her role on the hospitalist team, as well as being part of the respiratory clinic team, allows Caton to see how the medical system works.
"Whether it is in the inpatient or outpatient setting, I am in awe of the nurses who make it so, literally every day," she said. "If it weren't for tasks such as assessing the patient, observing changes and trends and administering medication, all while maintaining a positive and respectful approach, the patients' outcome would be bleak. Nurses aren't always involved in direct patient care, but their experiences help them in directing different aspects of SLV Health. They are amazing!"
Nurse Practitioners are part of Advanced Practice Providers (APP), who also include Certified Registered Nurse Anesthetists, Physician Assistants, and Certified Nurse Midwives. APPs have completed advanced education and training that enables them to manage medical problems, as well as prescribe and manage treatments within their scope of training.
"We are not the same as Medical Doctors or Doctors of Osteopathic Medicine," Caton explained. "We are all part of the healthcare team."
Caton can be found in the hospital or the respiratory clinic, while other APPs can be found in the operating room, women's health and a variety of other locations within the hospital setting.
"We are happy to be a part of the medical team, which enables increased access to health care for our community."