Homeless to Housed with Help from SLV Health Employees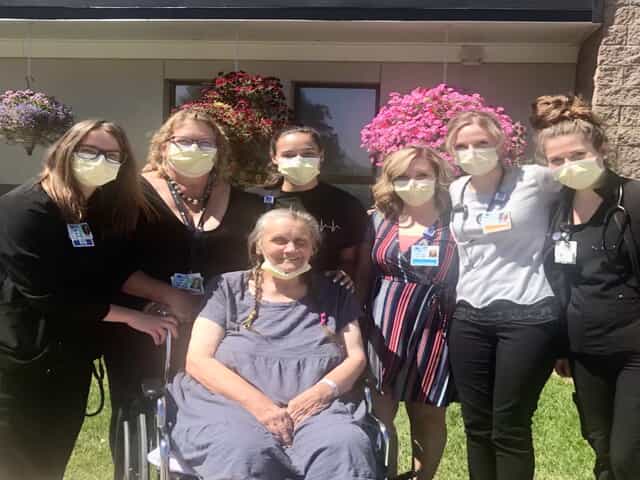 "Discharged!" L to R with Ms. Smith are SLVH CCH Employees, Joelle Valdez, Lynn Williams, Susan Nieman, Felicia Garcia, Tiffanie Hoover, and Sarah Sowards.
On July 5, 2020, Sandra Smith, 70, was admitted into the emergency department at SLV Health's Regional Medical Center in Alamosa, Colorado after spending a month living in a park less than two blocks away. She had gone from being an independent, fairly healthy individual to one who no longer could walk due to severe wounds and a worsened health condition from living outdoors without shelter. After two months of care from a team of SLV Health's care coordinators and nurses, the help of Alamosa County's Adult Protective Services, and SLV Behavioral Health, she moved into her own place in Antonito. With generous donations from members of Conejos County's Church of Jesus Christ of Latter-day Saints, and CCH staff, the dwelling was fully furnished and functioning.
Amber Marquez, Conejos County Hospital Nursing Director, commented about Ms. Smith, "She has driven her own success story. She embraced all of the resources and help that was offered to her. I am so proud of the people I work with. When Ms. Smith showed up in our hospital, she did not have a photo ID, no SSN, no Medicaid, no Medicare, nothing at all. Felicia Garcia, CCH Discharge Planner for SLVH, was a huge help to Ms. Smith. It is so exciting to see her on her own, ambulatory, independent, and healthy again with healing wounds." The care team, led by Debbie Thomas and Marche DePriest, RN, found resources for her while she was a long-term swing bed patient at CCH. Without asking, they were joined by SLVH CCH co-workers from all departments to help Ms. Smith set up her new apartment. They filled her closet with clothes and donated a microwave, cleaning supplies, silverware and dishes, toiletries, towels, sheets, a comforter, and more. She has a walker, therapy, food, and will have a ride to and from her follow-up medical appointments.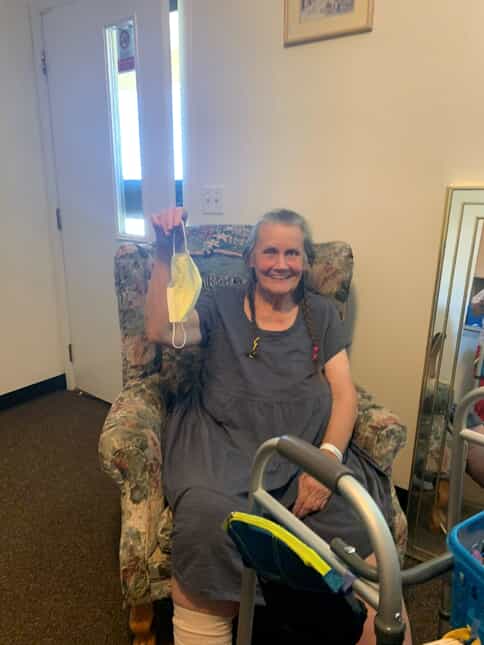 Ms. Smith is a part of a growing number of unsheltered individuals in our country. After her divorce and the death of her ex-husband, she went to live with a friend in Salida, Colorado. The friend's health condition worsened, and the family told her they could not take her in any longer, so she moved to Manassa to live with another friend. After that friend passed, she found herself homeless and without direction. Due to the COVID-19 pandemic, La Puente Home was restricted from taking in new guests. Ms. Smith found herself at the mercy of kindness from strangers as she settled into the City's Olympic Park in Alamosa. From completely homeless to having a furnished place to live, Ms. Smith has found herself benefitting from this generous community in the San Luis Valley. Through tears of joy running down her face, she said, "I can't believe this is mine. I'm so overwhelmed."