Lynette Grant Discusses the Importance of Influenza Vaccine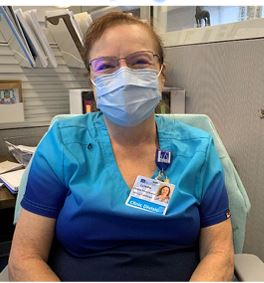 "Now is the time to get your flu vaccine," stated Lynette Grant, SLV Health's Infection Prevention Practitioner.  Lynette has seen what contagious diseases can do to patients with her nursing experience.  She has a Bachelor's degree in Business Administration from Adams State and an Associate's degree in nursing.  She worked on medical-surgical units in several hospitals in Nashville.  When she moved to the San Luis Valley several years ago, she was a public health nurse and director.  Then she worked in long-term care and has learned quite a bit about COVID and other infectious diseases.
This week of December is National Influenza Vaccine Week.  "We are already seeing flu in the San Luis Valley with hospitalizations," remarked Grant. In recognition of National Influenza Vaccination Week, San Luis Valley Health proclaims December as the month to recognize the importance and value of all vaccines to keep our population safe from serious diseases. From measles and polio to influenza and COVID and everything in between, vaccines have been proven to save lives for centuries. In 1798, the first smallpox vaccine was developed. Diseases such as rabies, tetanus, diphtheria, typhoid, tuberculosis and more, wreaked havoc on various populations until vaccines were developed.
"As a reminder, the flu vaccine can often help reduce the severity of illness in people who get vaccinated but still may get sick. Getting vaccinated also reduces the risk of flu-associated hospitalizations," explained Grant. Flu shots are widely available in the San Luis Valley. To get your flu vaccine at SLV Health, call the clinic closest to you, at (719) 589-3000.