Patient Portal - Video Visits
1. Login to your patient portal, https://myhealth.slvrmc.org/. If you have trouble logging in, please call 719-587-1392.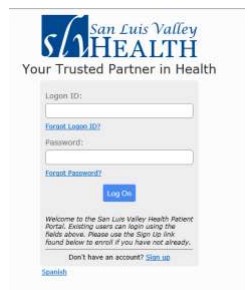 2. Navigate to the "Appointments" tab on the top of the page.

3. If you have a video visit on the date of login, you will see the option to Check In.
4. Check into the appointment 20 minutes before the appointment time begins. This will then redirect you into a virtual waiting room and your provider will be with you as soon as your appointment time begins. Please ensure you have a working camera and microphone on the device you are using.