Longtime Radiology Director Set to Retire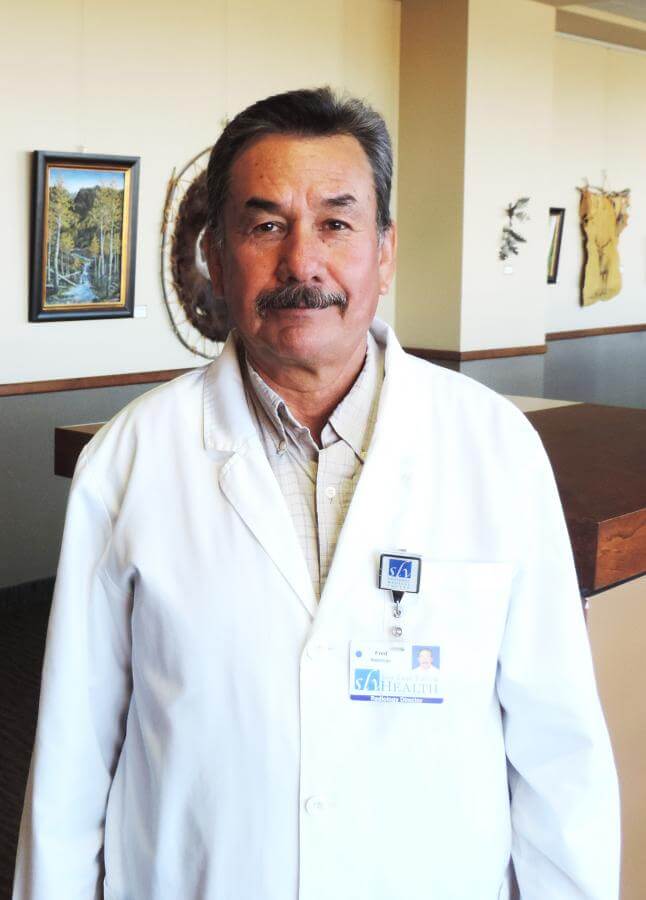 After 37 years of service, San Luis Valley Health's Radiology Director, Fred Casanova, will retire at the end of this month. 
Casanova, who began his career at San Luis Valley Health as a student at Adams State in 1977, leaves behind a legacy of excellent leadership that directly contributed to the expansion of the organization's Radiology Department into what it is today.
"Working with an individual of Fred's caliber has been nothing short of an honor," said CEO Konnie Martin.  "We are all fortunate to have had the opportunity to learn from the example that Fred has set and wish him nothing but the best in retirement."
Model the Way
Over the course of his 37-year career, Casanova has modeled the way for effective leadership in countless situations.  Casanova arrived at SLV Health in the fall of 1977 and was planning on continuing his education at Adams State.  Prior to this, Casanova had been a student at then Mesa State College in Grand Junction, Colorado. 
"The funny thing is, I never planned on working in Radiology," said Casanova with a smile.  "An instructor that I had at Mesa came to Alamosa to become the Director of Radiology here and offered me a job."
Casanova seized the opportunity, working nights and weekends while going to school.  "I wanted to learn, so I picked up every shift I could," said Casanova.  Six years into his career, he was offered the Director position and hasn't looked back since.
Inspire a Shared Vision
37 years is quite a time period and changes are inevitable in such an amount of time.  These changes are only accelerated when technology is involved, and Casanova has embraced them over the course of his career, inspiring a shared vision with the team that has called him a colleague.
"Even though it has been challenging at times, I have always had a vision to bring the latest and best imaging technology to the San Luis Valley as a service to its residents," stated Casanova.  "When I started, we had two rooms for x-rays.  Today, there are seven sub-departments within the Radiology Department."
These services have proven to be invaluable to the residents of the San Luis Valley, as they no longer have to leave the Valley for services like MRI's, CT scans, PET/CT scans, and digital mammography.
The Radiology Department is accredited by the State of Colorado, as well as the American College of Radiologists.  The department's staff includes 20 Radiologic Technologists, who are each trained in their specific specialty and many of whom are cross-trained to assist in other specialties.
Additionally, through an agreement with Radiology & Imaging Consultants (RIC) out of Colorado Springs, the department offers sub-specialty imaging services.
"The organization has shown its commitment to providing imaging services that are in demand to residents of the San Luis Valley through the agreement with RIC and through bringing in physicians whose specialties require these services," stated Casanova. 
"Working with our team of physicians and being a part of the care they are providing patients has truly been a rewarding experience."
Challenge the Process
Always looking for ways to improve his department and the organization as a whole, Casanova oversaw tremendous growth and expansion over the course of his career.  However, as with any journey, there were challenges along the way.  Casanova consistently looked for ways to challenge the process by being innovative in the implementation of new technology and services.
"I remember when we first brought nuclear medicine, we didn't even have room for the equipment," said Casanova.  "It was very primitive as we set everything up in the hallway."
Another challenge that Casanova noted was staying up-to-date in a world that is constantly updating itself.  
Despite these challenges, Casanova was able to commit himself and his team to both the day-to-day goals of the department and the overall goal of becoming a department that would better the organization.
Enable Others to Act
When Casanova started in 1977, he was working towards becoming an X-Ray Technician.  The department then added ultrasounds to the services it offered and Casanova learned that technology as well. 
"In the first several years of my career, I was what I would like to call a 'superuser'," Casanova stated with a chuckle.  "I learned all of the technology as it came in."
As the department continued to expand, however, Casanova recognized that it would be impossible for him to learn all of the equipment, and he began to train others to allow for the continued expansion of the department.
"It is in working with others that I developed the advice I would leave for others," stated Casanova.  "I think it is important to be as honest as you can be, to be consistent in what you do, and to always communicate.  These three things are incredibly important in enabling others to act."
Encourage the Heart
"I am going to miss the challenges in providing services, as well as staying up-to-date," said Casanova as he was asked what he was going to miss the most after retiring. 
"I am proud of what has been accomplished during my time here.  We have gone from two x-ray rooms to a department that provides a whole suite of imaging services for those living in a rural area."
Those services have proven to be an invaluable resource for Valley residents.  Recently, a cancer patient completed the scope of her treatment within the SLV Health campus.  One of the reasons she was able to do this was the addition of PET/CT scans, a service she would have otherwise had to leave the Valley to receive.  These services save on travel costs and allow patients to spend more time with their families.
"The organization has always moved in a positive direction and have encouraged the heart," stated Casanova.  "I feel that administration has always cared for staff and for the patients that our staff has served.  This is evident in the specialty services they have added, most recently Oncology and Neurology, and it's been a pleasure to support that process."
So while the sun sets on a celebrated career and SLV Health bids farewell to one of its own, it is with the gratitude of 37 years of service and an example of the leader we all strive to be.  Thank you, Fred, for all that you have shared, and we wish you a happy retirement.