SLV Health's Virginia Jordan to Enter Retirement
Nearly 35 years ago, Virginia Jordan joined San Luis Valley Health as a volunteer.  After seeing hundreds of patients and touching even more lives, Jordan is set to retire from the organization.
She will maintain part-time status and help out in a variety of capacities across the organization but will also begin to enjoy the amenities of retired life.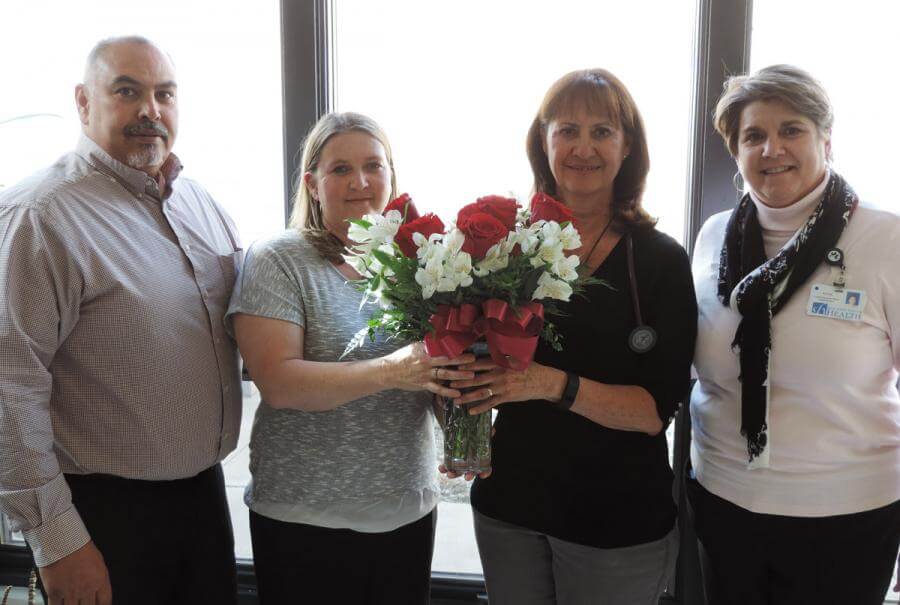 Virginia Jordan (second from right) enjoys a retirement celebration with CEO Konnie Martin (right), CCH Administrator Kelly Gallegos (second from left), and Physician Integration Administrator Antonio Gurule (left)."This place and the people here have been like a second family," said Jordan at a recent retirement celebration.  "I want to thank everyone for all that they have done to make this experience as memorable as it was."
Jordan served San Luis Valley Health in a number of capacities, most notably as a Registered Nurse before receiving advanced training and becoming a Certified Family Nurse Practitioner.  Most of her time was spent serving the Conejos County Community, and she built many relationships over that time.
"Virginia is well known in the community for her compassion and energy," said Kelly Gallegos, Conejos County Hospital Administrator.  "She is involved in the hospital, clinic, and community activities.  We thank her for all that she has meant to our team."
For over 20 years, Jordan served as the Medical Coordinator on a volunteer basis for the La Jara 9Health Fairs.
She and her husband John are very active and plan to enjoy the outdoors, biking, hiking, as well as time with their new granddaughter during retirement.