Dr. Celada to Begin the Next Chapter of His Life…
Dr. Marco Celada is retiring after 50 years of practicing medicine, with over 30 of those years in Southern Colorado, mainly at Conejos County Hospital and the La Jara Clinic.  He and his family immigrated to the United States for safety reasons during a time of political strife in Guatemala.  
Donna Wehe, PR and Marketing Director at SLV Health, sat down with Dr. Celada, his wife Maria, and CCH Administrator Kelly Gallegos for the following interview.
HOW DID YOU GET TO LA JARA?
In the early 1980's it wasn't safe for me to stay in my country.  I was not politically active, but I had become a target like other attorneys and doctors.  The situation was complicated.  People like me who were open-minded and socially orientated were labeled by the government as "communist," even though we were only trying to bring medical services to the rural areas and the poor people.  And, if we didn't try to help, we were often caught in a Catch 22 where the other side saw us as only being a sympathizer for the government.
I was in Denver when I met a pharmacist from San Luis who spoke of this region as needing physicians and where many residents spoke Spanish.  When we immigrated to the USA, we did not speak English.  My wife, Maria, and my three young children came with me.  In order to practice medicine in Colorado, I needed to pass the licensing test as well as the boards.  It wasn't easy.  Colorado was known for being tough and allowing very few foreigners to practice in the state.  The board agreed to grant me a fellowship for one year in Pueblo.  Meanwhile, I made some contacts in the Valley such as Charlie Mondragon, Dr. Warner, Dr. Thomas, and Carl Graber.  The people in the Valley supported my application and wrote letters of support, including Senator Entz.  The normal procedure would be to pass your boards and then return to your country to apply for a different type of Visa.  I couldn't do that due to the political violence.  This is one of the main reasons that Maria and I remained here all of these years; I felt committed to the people that worked so diligently to recruit me and support my application.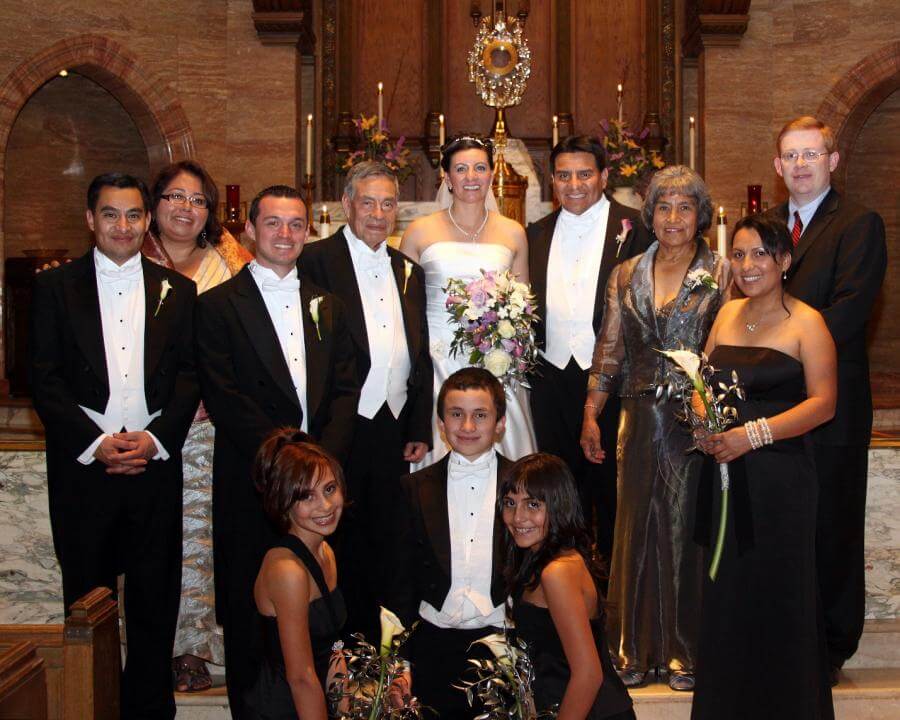 Dr. Marco and Maria Celada surrounded by their family at Marco Jr. and Kristie's wedding.
WHAT WERE THE EARLY YEARS LIKE FOR YOUR PRACTICE IN LA JARA?
Dr. Thomas, myself and our assistant, Ted Morrison, did everything.  We took care of the emergency room patients, did surgeries, delivered babies and held clinics.  When I joined their practice, it gave patients a choice.  We worked long hours, every day of the week.
WHAT DO YOU THINK OF THE CURRENT STATE OF MEDICINE AND HEALTHCARE DELIVERY?
The evolution of medicine and healthcare has been enormous.  Technology is amazing and the changes have made our lives so much better – look at the longevity we have now, we are much healthier and happier than 50 years ago.  Another big change is specialization.  We used to do everything from diagnosis to procedures by ourselves.  As a part of a bigger system, we share care delivery across many mediums to ensure continuity of care for the patient.
In my day, people went to medical school because they liked science and felt called to a vocation of helping people.  And in many cases today, our providers feel the same calling, but it's different now because of specialization; there is more of an allowance for a work/life balance to today's providers.  For me, it was long hours with no weekends or holidays off.  I felt dedicated to my calling of wanting to bring access to healthcare to all people and that is why we were accused of being leftists in Guatemala, because we wanted to help others.  Healthcare today has become a business, more like an industry, even though it's still about helping people.  It's different today.  Access to procedures have improved so much over time, especially with technology and specialization.
I hope we can continue to witness healthcare reform to simplify reimbursement, but in my opinion, these changes would be successful only on a national scale.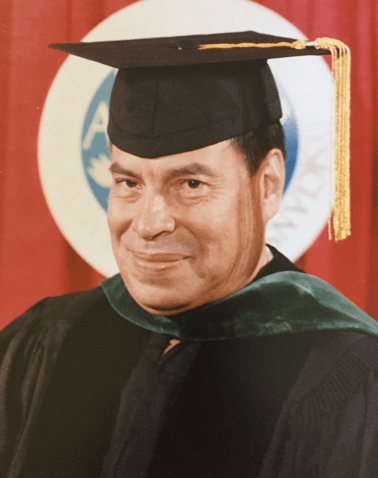 Complimentary photo signifying Dr. Celada's confirmation as a Fellow of the American Academy of Family Physicians in October 1995
CONEJOS COUNTY HOSPITAL HAS BEEN THROUGH MANY CHANGES; HOW DO YOU FEEL ABOUT CCH?
Rural hospitals are the lifeblood of their communities; with CCH, La Jara offers employment as well as access to care in a rural setting.  I invited Dr. Howe to come and evaluate our situation when we were trying hard to save money and stay open. We were fortunate to have a community hospital in Alamosa who was willing to work with us to preserve health care.  This is happening all around America and we are lucky to have remained a strong critical access hospital.
I'm not entirely sure about the future of critical access hospitals in rural America because what is necessary is the commitment from the providers.  Part of healing is when you know someone cares about you and your family and they are proud to be from the same place and experience the same culture like we do in the Valley.  I personally have enjoyed the many friendships that Maria and I formed while working and living here.  "I am so pleased we have been successful in recruiting two new providers who will be based in the Valley to serve our Conejos County and surrounding area patients," commented Kelly Gallegos.
WHAT ARE SOME THINGS THAT PEOPLE MIGHT NOT KNOW ABOUT YOU?
I was doing some bicycling for exercise and a classmate/Psychiatrist friend along with the Spanish priest in Antonito invited me to "Ride the Rockies" with them.  I also enjoy singing and dancing.
Last year, in 2015, I walked the whole Camino de Santiago de Compostela Pilgrimage, from France to Spain, 500 miles in 30 days in October.  I intended to do it by myself, but Maria joined me for 10 days as well as other family members.
For the past 5-6 years, I have been running in the Bolder Boulder 10 K race; and now it's become a family affair as we all enjoy coming together and cheering each other on.
For seven years, I worked for the Veteran's Administration in various clinics in southern Colorado.
TELL US ABOUT YOUR FAMILY
My beautiful wife Maria loves to quilt and has run the Food Bank for La Jara out of the Catholic Church for over 20 years.  She volunteers for many of our community and hospital/clinic functions. Our twin boys, Roberto and Marco Jr. and our daughter, Myriam (Mimi), are all Centauri High School graduates. 
Roberto works as a general surgeon for Alameda Health System in the San Francisco area of California.  He is married to Evangelina who works as a judge.  
Marco Jr. married Kristie, a Valley native.  They live in Denver and she works as a probation officer.  Marco Jr. graduated as a physician from a school in Guatemala and has been involved in a rural health project to bring access to care to the rural areas.  He has his medical license, many family and friend connections as well as the enthusiasm to see this project from idea to fruition.  We attended the ribbon cutting about two years ago. 
Myriam married John Cook and they reside in Denver.  She works in real estate and he works in computer design.  They gave us our three grandchildren, John, Anna and Bethany, all graduates of Evergreen High School.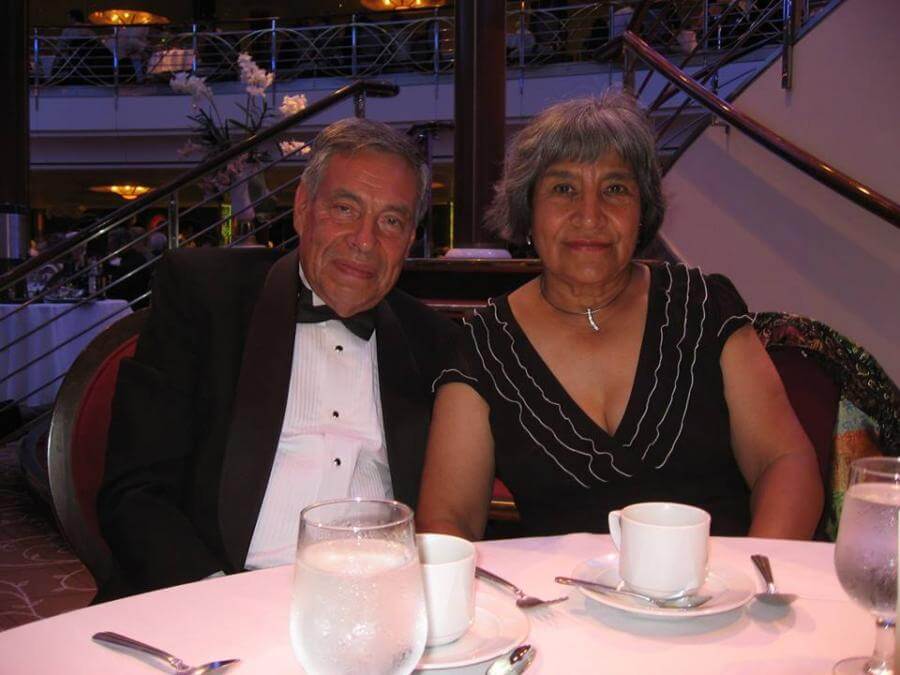 Dr. Celada and wife Maria
NOW THAT YOU ARE RETIRING, WHAT IS ON YOUR BUCKET LIST?
We really want to do everything that we haven't had time to do because of always working!  Our goal is to stay involved, to stay busy and to find ways to stay engaged such as volunteer work.  Of course, we enjoy music, reading and traveling.  We look forward to spending time with our friends and family.  We are open minded to what will come.  We hope to stay physically fit and hope to find that elusive balance between downtime and activities as we enjoy the next chapter in our lives.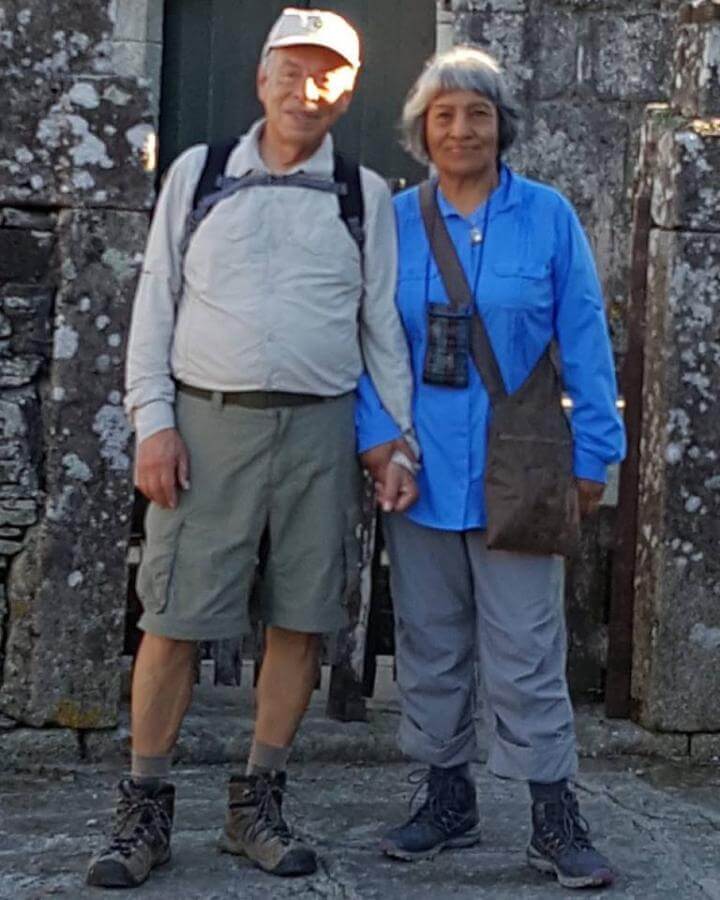 TIMELINE HIGHLIGHTS:
Dr. Celada was born in Guatemala and graduated from High School in 1956.  
He graduated from the University of San Carlos, Guatemala City, with a degree in medicine in 1966.
He married Maria on April 22, 1967 (next spring will be their Golden Wedding Anniversary).
In 1981, he and his family left Guatemala for safety concerns and went to Denver.
In 1995, Dr. Celada was certified by the American Academy of Family Physicians.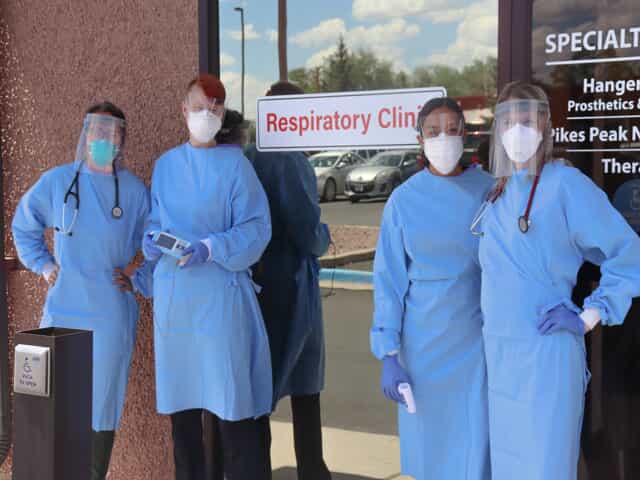 The team at the La Jara Clinic love Dr. Celada's sense of humor and working with him. Pictured left to right in the front row: Amy Johnston, FNP, Amy Carpenter, DO, Terry Reisner, MD and Marco Celada, MD Left to right in the back row: Rhonda Terry, LPN, Felicia Durham, CMA, Merisa Armstrong, LPN, Andrea DeHerrera, LPN, Rebecca Romero, LPN
WHAT HAS DR. CELADA'S YEARS OF SERVICE MEANT TO THIS COMMUNITY?
"When I think of Dr. Celada, I think of his years of commitment to this community," replied Kelly Gallegos.  "He has been a great role model for our new providers.  He never turns a patient away.  He is kind, compassionate, professional and a team player.  We all love his sense of humor."
Clinic Director Michelle Gay added, "We all think the world of Dr. Celada.  He will be sorely missed.  We look forward to honoring him and having a lot of fun with his family and friends as we celebrate this milestone in his career."
TIME FOR A FIESTA!
SLV Health, Dr. Celada and his family celebrated his retirement with an open house at the Knights of Columbus Hall in La Jara, Colorado on Friday, July 22, 2016