SLV Health Recognizes Employees at Years of Service Banquet
SLV Health Recognizes Employees at Years of Service Banquet
Alamosa, Colorado.   San Luis Valley Health honored employees at the annual Years of Service Banquet on January 25, 2017.  The event was held at the ASU Student Union and recognized 42 individuals who celebrated their 10, 15, 25, 30, and 35 year milestones – a combination of 615 years of service in all.
Lucy Farmer of the La Jara Clinic celebrated 35 years of service!  She came to her job at the clinic straight from the Winchell's Doughnut store in California.  She was amazed when she got the job and started out as a ward clerk.  Now she specializes in pre-authorizations and insurance eligibilities. Her skills include being a great listener, having empathy with the patients and family members, and she loves to make people laugh.  Also being honored for 30 years of dedicated service were Paul Jiron in Radiology, James Martinez, Director of Plant Operations, and Terri Salazar, Director of Medical Records. The list is long, which demonstrates true commitment to taking care of patients and loving what they do every day.
Also recognized on the day before at a luncheon were 31 employees who hit the 5 year milestone with San Luis Valley Health.
Other Recognized individuals were:
25 Years of Service: Denise Crawford – OB/GYN Clinic, Gerri Valdez – Coding, Kelly Gurule – Foundation, Jo Kreps – Respiratory Therapy.
20 Years of Service: Julie Ramstetter – Trauma Services, Elizabeth Lopez – OB/Postpartum, Andrea Griego – OB/Postpartum.
15 Years of Service: Brandon Cantu – PT-OP, Glenda Jackson – CCH Acute, Daniel Malouff – Radiology, Barbara Ann Espinosa – CCH Acute, Linda Garcia – Environmental Services,
10 Years of Service: Michael Marical – Alamosa Ambulance, Marie Cruz – CCH Acute, Charlie Reich – Speech Therapy-OP, Lisa Romero – Antonito RHC, Rebecca Sours – CCH Acute, Rita Mizokami – Coding, Shawna Glynn-Apodaca – Quality Improvement, Rachael Schell – CCH Acute, Brittany Sours – Emergency Room, Dr. David Geiger – General Surgery, Dr. Susan Geiger – Occupational Medicine, Ashley Caton – Alamosa Ambulance, Noreen Chacon – Admissions, Ruth McWhirter – Infusion Therapy, Melissa Geringer – OB/GYN Clinic, Michelle Vannoy – OB/Postpartum, Donna Vallone – In Patient/Third Floor,  Irene Salazar-Casias – Pharmacy, Kay Talley –Authorizations, Cindy Silva – Nutrition Services, Marie Henderson – Physician Services Manager, Emelia Galaviz – Environmental Services, Bonnie Lee – Patient Accounting, Susanna Martinez – Coding, Amy Oaks – Infusion Therapy, Jason Sandoval – Patient Accounting.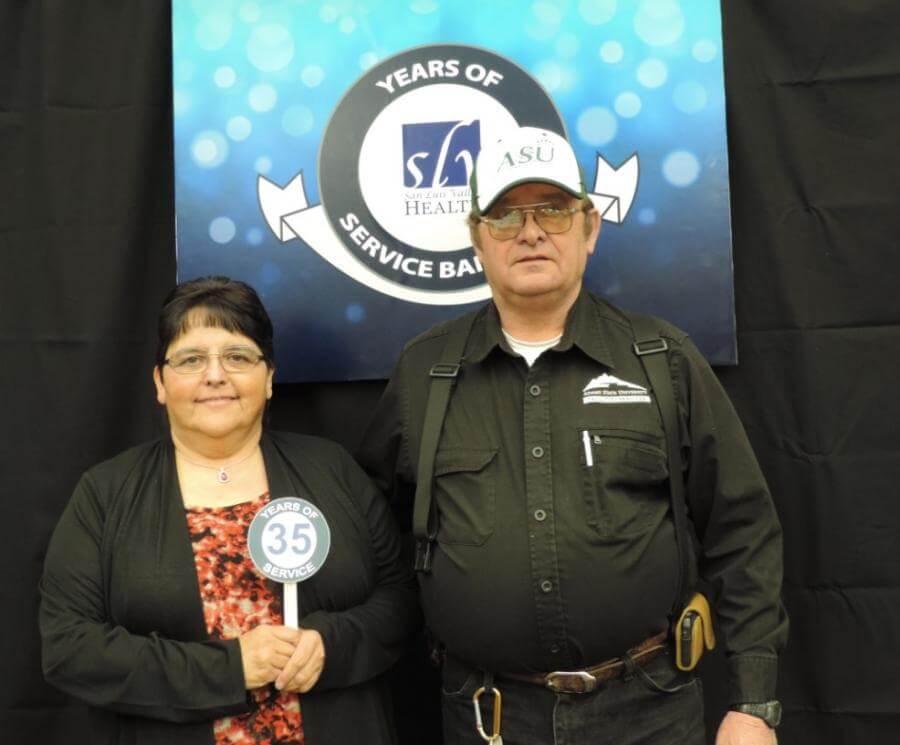 Lucy Farmer and husband Ronald.  Lucy was recognized for 35 years of service at San Luis Valley Health at the Banquet.  "I love helping people as much as I can.  That's why I like my job."  Lucy always has a smile, hug, and laugh for everyone she greets.