SLV Health Awarded 2017 Willis Fassett Jr Award from Adams State University Foundation
November 7, 2017.  Alamosa, Colorado. 
Konnie Martin, CEO, SLV Health, along with 35 staff and board members, accepted the 2017 Willis Fassett Jr. Foundation Award, one of Adams State Foundation's highest awards that they bestow on generous individuals and organizations to acknowledge their continued support of students. The Donor and Student Recognition Dinner was held at the ASU student center on November 7, 2017.
During Konnie's acceptance speech, she continually reinforced how much of our journey is connected to Adams State. "We deliver babies, provide surgical services, and perform radiology, laboratory, therapies and a full complement of primary care and specialty services. We are here when you have a cold, need a flu shot, break a bone, develop cancer, need rehabilitation, or many things in between."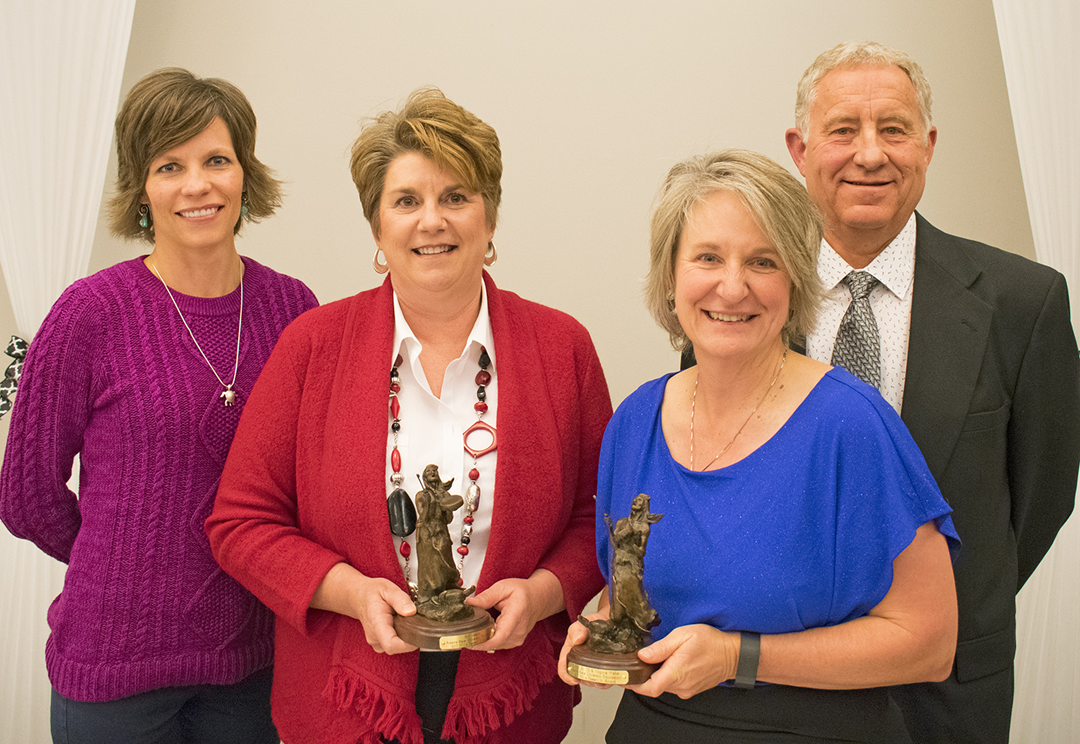 The Adams State University Foundation recognized SLV Health and Virginia and Elwyn Wehe with the Willis Fassett, Jr. Award. Pictured, left to right, Karla Hardesty, SLV Health Board of Trustees president; Konnie Martin, SLV Health CEO; Donna and David Wehe, accepting on behalf of Virginia Wehe.
Konnie also recognized attendees by name, department, and whether the staff members were ASU alumni, in her speech to tie together the importance of having a reciprocal relationship with Adams State, "As you can see by now, our destiny is intertwined, both of our organizations understand our most prized asset is human capital. For both in education and medicine, we need a caring and competent workforce to reach our missions."
In summary, Konnie closed with this statement, "The partnership that we enjoy with Adams State University benefits both our organizations and it makes our community better. I believe that education is not about filling the mind; it is about lighting the heart. From the bottom of our hearts, we thank ASU for the 2017 Willis Fassett Jr. recognition."