Bone Density and Orthopedic Machines Benefit Patients in the SLV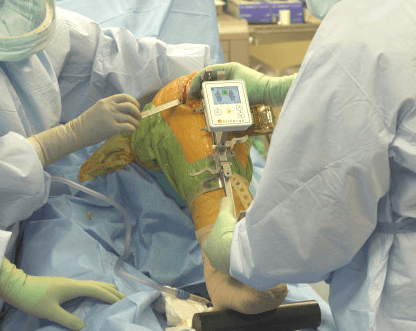 SLV Health is pleased to announce the addition of a new state-of-the-art bone density machine to the Imaging and Radiology Department. The main reason to have a bone density test is to find and treat serious bone loss, called osteoporosis, and prevent fractures and disability. The Imaging Department at SLVH consistently performs thousands of tests each year, from routine examinations to highly technical trauma scans and x-rays. The machine is located at 2115 Stuart Avenue, Alamosa.  Patients need referrals from their providers for a bone density exam. They may call 587-1231 or 589-8024 to get scheduled.
The Orthopedic Surgical Team at SLV Health added a navigation system which enhances the surgeon's location skills as a guide during surgery.  The new equipment is the latest in the field and is well tested.  It is called OrthAlign, and SLV Health Orthopedic Surgeon Dr. Defee has been extremely pleased, often using it for Total Knee Replacements.  "This machine validates my skills, keeps the surgery focused and increases efficiency.  With robotic technology, it is like having another professional assistant with every surgery," commented Defee.
SLVH is a Trauma Level 3 facility which means that traumas such as injuries to bones, such as fractures and dislocations can be treated at SLV Regional Medical Center Emergency Department 24/7. The SLV Health Surgery Team has received the highest rating in the state for patient safety for the past two years by HealthGrades.