SLVH "Grow Your Own" Story Features Daniela Mannerberg
Daniela (Duran) Mannerberg was born and raised in the San Luis Valley and like most young people, she wasn't sure what she wanted to do when she grew up. But she was certain about one thing. She wanted to work in healthcare. "For some reason, even as a little girl, I knew I wanted to work in the medical field." Throughout her life, she feels that she was given many opportunities, but one event that was especially pivotal, was when she was accepted in the Area Health Education Center (AHEC) summer institute to explore careers in the medical field. "As a Junior in high school, I was given unique insight into possibilities and career opportunities that I had never before imagined." Daniela graduated in December of 2017 with a biology degree from Adams State University, had continued working with the AHEC program, and was still uncertain about her career path. In 2018, she was hired as a Radiology Assistant in SLVH's Imaging Department.
Janet McGinnis, Director of Radiology and Imaging at SLV Health, has been very pleased with Daniela's performance. Janet identified Daniela as someone with talent and passion and could be a perfect fit for a "grow-your-own" opportunity. Janet explains, "We have certain positions that are hard-to-fill. SLVH's Radiology Department is unique because as a rural hospital, we have to be able to perform all types of scans, requiring various licensure and certification requirements. Unfortunately, our local schools do not offer programs to provide this training, which results in recruiting candidates from outside of the Valley. Our preference is to hire people who have local connections to the San Luis Valley. To be able to hire someone who grew up here is a huge win for everyone!" The position Janet was trying to fill is an Ultrasound Sonographer.
SLVH Senior leadership has created financial resources in an educational fund to support these "grow your own" endeavors. This resource is a perfect example of how SLVH can support Daniela's desire and passion for further education in the imaging field. Mandy Crockett, SLVH Human Resources Director, said, "We believe in investing in people. A grow our own model is a preferred retention strategy over other recruiting methods. The result is a committed, well-trained individual who fills a much needed and difficult to fill position. It's a win-win strategy."
Daniela will complete her education through the online Washburn University program in the spring of 2020. "This is money well spent," commented Janet. "She can complete her hands on training under our supervision. When she completes her training, she will know our system at SLV Health, and she will be immediately ready to fulfil the job requirements."
"I am so thankful and excited beyond words to become a Sonographer," said Daniela. "The struggles and effort have been well worth it, and I am thankful to all those who have helped me on this road to a successful and rewarding career in healthcare."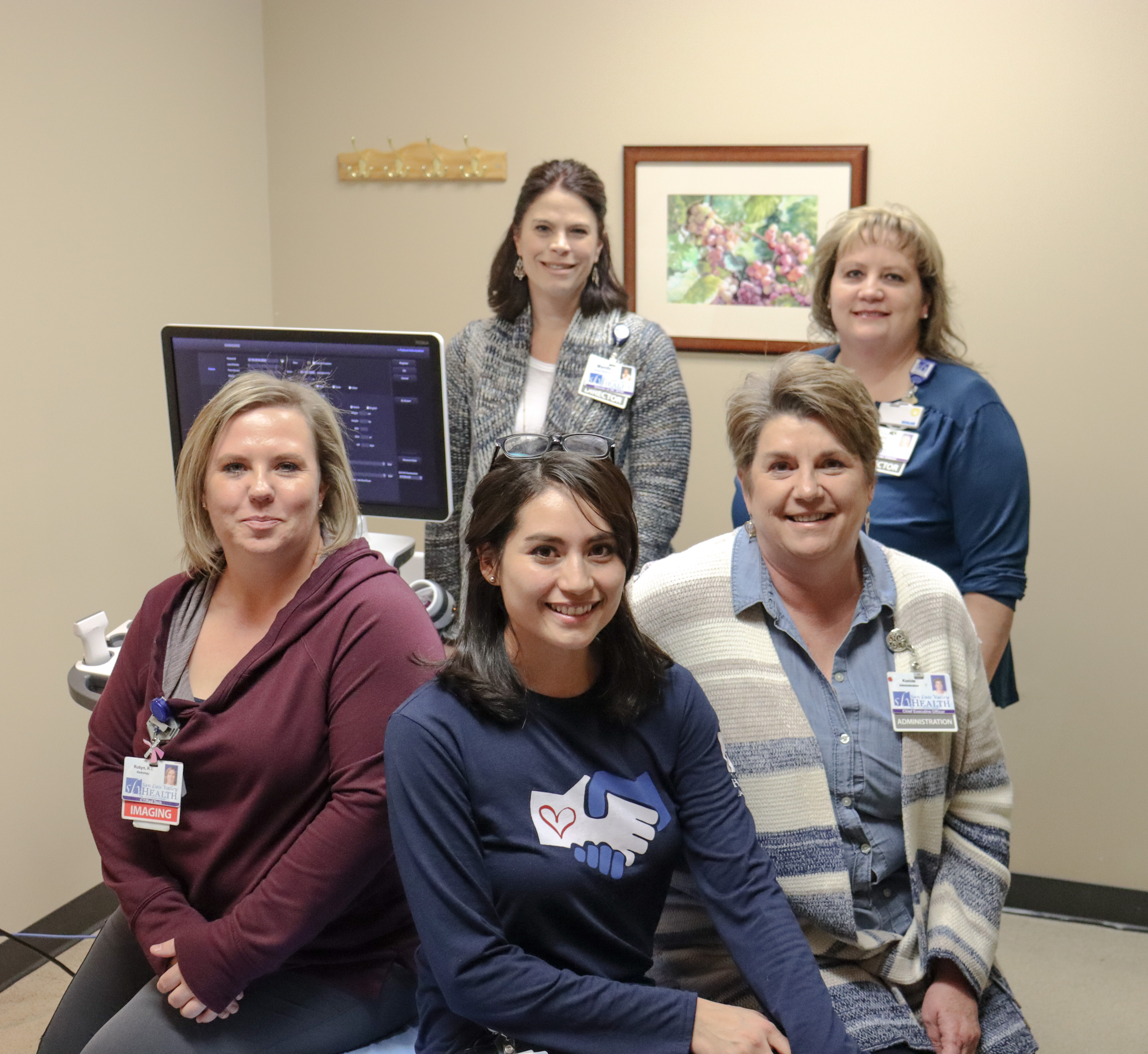 Front Row, L to R: Robyn Williams, Imaging Supervisor, SLVH; Daniela Mannerberg; Konnie Martin, CEO, SLV Health. Back Row, L to R: Mandy Crockett, Human Resources Director, SLV Health and Janet McGinnis, Imaging Director, SLV Health.