Eight SLV Nurses Recognized at Nightingale Awards Ceremony
February 22, 2019.  Alamosa, Colorado
Eight San Luis Valley registered nurses were honored at the 15th annual SLV Nightingale dinner at Adams State University.
Jenni Cortez, Mona Lovato, Emelin Martinez, Lindsay Martinez, Sammy Martinez, Misty Palacios, Greta Roberts, and Heather Smith were recognized for their commitment to their patients and providing excellent nursing care.
The dinner was attended by family members and co-workers.  Emelin Martinez and Greta Roberts were selected as luminaries for the statewide event in Denver on May 11, 2019.
Thanks to SLV Health, Rio Grande Hospital, SLV Area Health Education Center, Valley-Wide Health Systems, and SLV Federal Bank for their generous donations that made this event possible.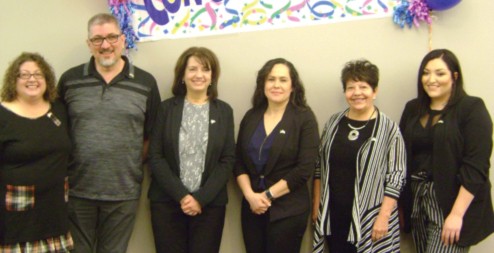 Courtesy photo From left are Mona Lovato, Rio Grande Health; Sammy Martinez, VWHS; Emelin Martinez, VWHS; Jenni Cortez, SLV Health; Greta Roberts, VWHS and Lindsay Martinez, SLV Health. Not pictured are Misty Palacios, SLV Health and Heather Smith, SLV Health.