Cooper is Preceptor of the Year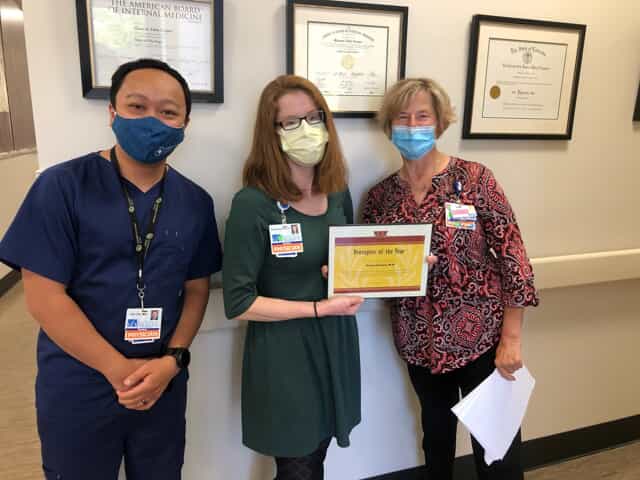 The Alamosa Rural Training Track (RTT) Family Medicine Residency Program had its second graduation ceremony on June 27, 2020, honoring Dr. Jim Do and Dr. Alexandra King.
The mission of the Alamosa RTT Residency Program is to provide medical education and training for Family Medicine residents in an accredited residency program while they live and work in a rural community. Training begins with the internship year at Centura/St. Mary-Corwin Medical Center in Pueblo and the next two years are spent in Alamosa. The residency program is integrated with Valley-Wide Health Systems for primary care and with the SLV Health hospital for specialty rotations.
Dr. Joseph Quintana was awarded "Faculty of the Year" by the residents and Dr. Penny Cooper received the "Preceptor of the Year" award. Upon hearing about her award, Dr. Cooper commented, "I am overwhelmed with happiness and gratitude. I am grateful the residents were so interested in oncology and that I could share my specialty with them. I enjoy teaching the next generation of doctors on how to keep learning. In oncology, we treat a set of diseases. It is important to learn how to identify the questions that need to be asked, and how to find those answers. Thank you to Dr. King and Dr. Do for this award. I wish them both the best in their new careers."
The graduating residents will continue their careers as family medicine physicians. Dr. Do has joined Kaiser Permanente Medical Office in Brighton, and Dr. King has joined a Federally Qualified Health Center (FQHC) family practice clinic in Belen, New Mexico.