SLVH Donates for Wheelchair Accessible Van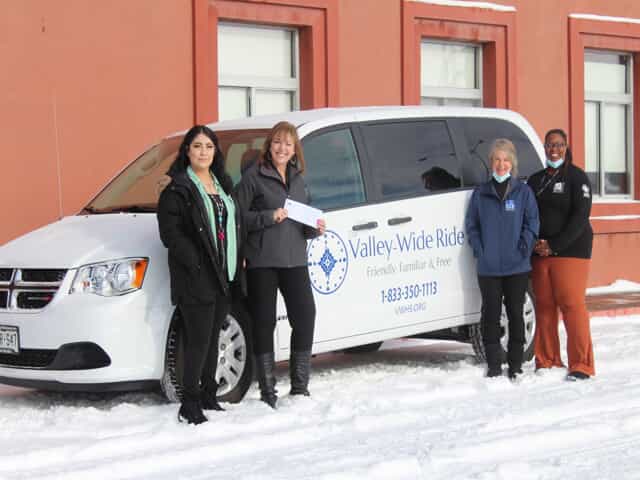 L to R: Karina Rivera, Driver for Valley-Wide Ride, Valley-Wide CEO Jania Arnold, SLVH Director of Communications Donna Wehe, and SLVH Care Coordinator Manager Lacrecia Smith.
Thanks to donations from San Luis Valley Health (SLV Health) and the NextFifty Initiative, Valley-Wide Health Systems purchased a wheelchair-accessible van for the "Valley-Wide Ride" program.
The SLV Health Board of Trustees approved a donation of $25,000 towards purchasing a new transport vehicle that is specially equipped to accommodate patients in wheelchairs. The NextFifty Initiative provided a grant for the remaining $25,000 needed to purchase the van. NextFifty Initiative is a Colorado-based private foundation dedicated to funding mission-driven initiatives that improve the lives of the older adult population and their caregivers.
"Transportation will probably always be a huge barrier to our patients in the San Luis Valley," says SLV Health Care Coordinator Manager, Lacrecia Smith. "This collaboration makes it a little easier to help all of our patients with both medical and non-medical transportation needs."
This vehicle allows the Valley-Wide Ride to provide safe, comfortable transportation to people who use a wheelchair. Valley-Wide is deeply grateful for the partnership of other non-profit organizations that made this possible. "I am so excited that Valley-Wide has been able to add this valuable service to our Transportation Department, says Valley-Wide Chief Executive Officer, Jania Arnoldi. "Valley-Wide is grateful to SLV Health and NextFifty Initiative for their generous donation to support this effort."
The Valley-Wide Ride is a free service that offers transportation to wellness-related businesses for anyone in the Alamosa and Monte Vista areas. Transportation services are currently limited to pick-ups and drop-offs within the city limits of Alamosa and Monte Vista but will expand to San Luis, Antonito, and the Lower Arkansas Valley area in March.
To schedule a ride, please call 1-833-350-1113 and select "transportation" from the phone menu. To guarantee on-time pick-up and drop-off, please schedule your ride at least 24 hours in advance.