On The Road To Recovery - One Heartbeat at a Time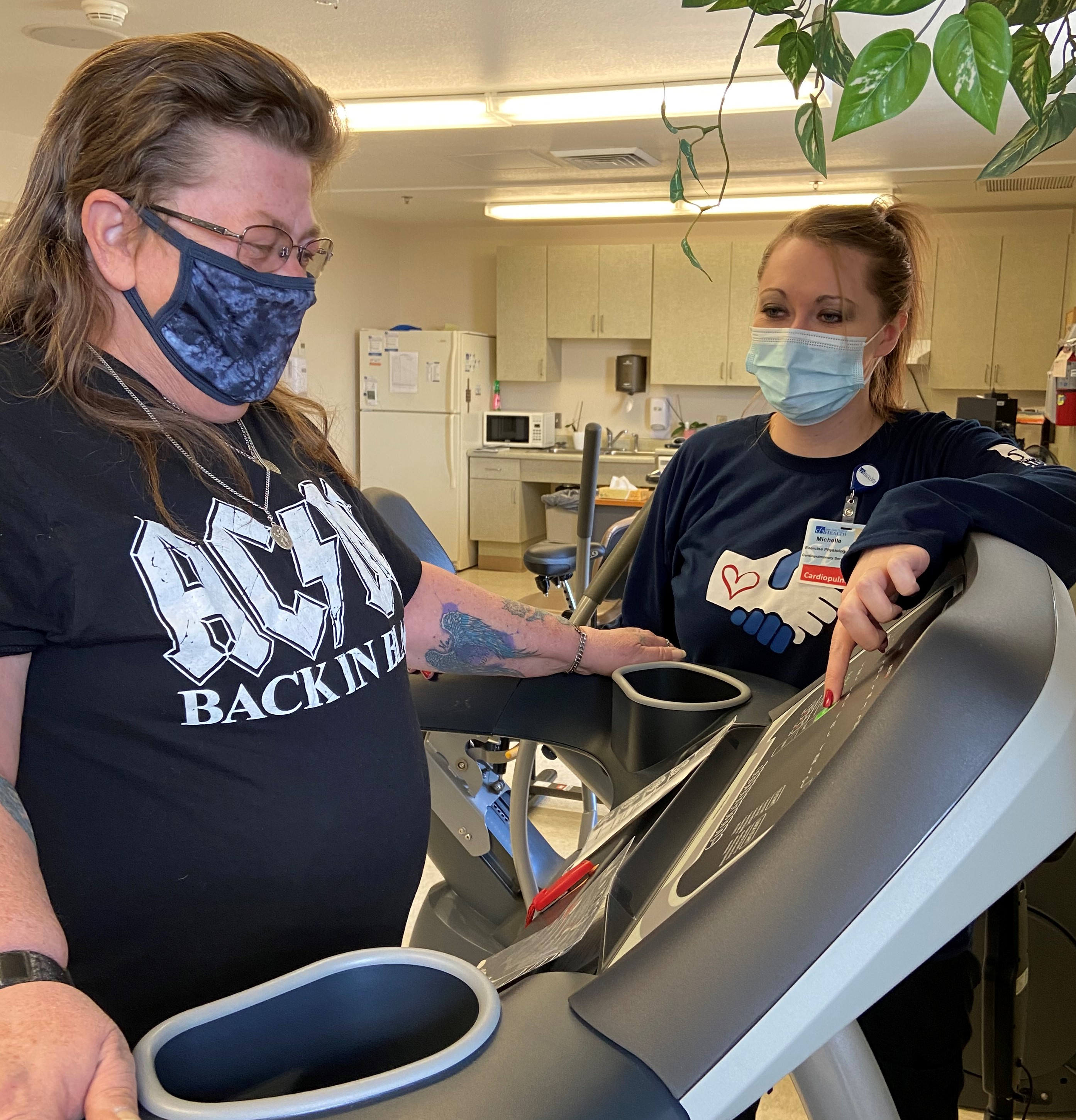 Blanca resident Vivian Jones works on her cardiac rehab with Cardiopulmonary Rehab Exercise Physiologist Michelle Crowther at SLV Health in Alamosa.
Vivian Jones realized something was wrong last year when she couldn't catch her breath. A visit to SLV Health Regional Medical Center revealed that she had a clogged artery, and was in need of heart surgery to save her life. Now, thanks to the cardiac rehabilitation team at SLV Health Regional Medical Center, this Blanca resident is on the road to recovery.
It was doing simple things like walking that made Jones realize there was an issue. "Just walking made my heart race and I became very short of breath," she explained. She visited SLV Health to find out what was going on. "That's when I took – and failed – two stress tests."
Dr. James Grigsby and Physician Assistant Brendan Simenc discovered that Jones had a clogged artery, and referred her to have surgery in November to have a stent inserted. "They were very helpful and caring," she said.
After her surgery, an important part of Jones' recovery now is cardiac rehabilitation. She chose to complete her recovery at the cardiac rehabilitation center at SLV Health in Alamosa, where trained staff are taking her through a medically supervised program tailored to her strengths and weaknesses. This is done on an outpatient basis, so Jones visits the cardio rehabilitation department two to three times a week for 12 weeks.
The department has a multitude of different equipment designed to help strengthen the cardiovascular system. It is there, after a small warm up, she lifts weights before doing short stints on the exercise bike and treadmill. But the program is more than just physical activity. There is also plenty of educational opportunities about how to eat healthy foods, taking medicine correctly, reducing stress and other healthy living counseling.
This is her first time experiencing cardiac rehabilitation, and Jones says it feels good. "I am learning a lot," she said. She went on to credit the staff for being very helpful and caring. "They work hard to make everyone here feel comfortable."
Jones had especially kind words for one particular exercise physiologist – Michelle Crowther. "She is just awesome," she said. "I can't really express how wonderful Michelle is."
Born and raised in Sanford, Crowther was hired by SLV Health in 2019. While at Adams State working towards her degree in exercise science, she worked in the cardiac and pulmonary rehabilitation department for her practicum and loved it. "Cardiopulmonary Rehab has been my dream job ever since, and I am very grateful to be here now."
As a cardiopulmonary rehab exercise physiologist, she enjoys meeting and learning from all the individuals who participate in the rehabilitation programs. "I love helping people feel better," she explained. "We spend several weeks together, so we get to know each other very well."
Crowther especially enjoys seeing a patient's energy return while going through the program. "I love seeing and hearing about each patient's progress and successes they have had due to their hard work and efforts," she said. "While we work, we listen to good music, share stories, tell jokes and most importantly, heal both physically and mentally. It is an absolutely beautiful experience."
This is part of the #MyStory series by SLVH. If you have a story you would like to share, please visit SLVH.org and submit the "Contact Us" form and check "Patient Experience."
For more information about the SLV Health Cardiac Rehab department, please go online to www.sanluisvalleyhealth.org or call 719-587-6391.