Every year, the Nightingale Awards are held to honor nurses throughout the state. Anyone can nominate a nurse of their choice for their excellent service and commitment to care. This year, San Luis Valley Health sent two Luminary Award recipients to Denver for the gala celebration, Bryan Garcia, BSN-RN, and Joelle Valdez, ADN RN, pictured below.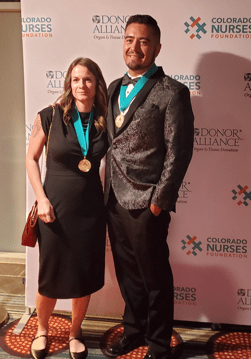 "It was an honor to be nominated and represent SLVH. The majority of the nominees were from the Denver metro area, so it was awesome to have the state know that even rural nurses are capable of making a difference! With that being said it was humbling to hear all of the nominees' stories, and a reminder of why we all became nurses. We've persevered through a pandemic, supply shortages, and nursing shortages. Despite the frustration and fatigue, nurses continue to make a change for the profession and for their patients." - Bryan Garcia
Excerpts from Bryan and Joelle's nominations:
Bryan Garcia, RN, BSN, House Supervisor; Bryan demonstrates excellence in his role as House Supervisor and shares this value within his influence. Patient care and safety are the focus of his efforts. Like the pioneer Florence Nightingale, Bryan helped to establish the role of House Supervisor at SLVH and has since helped mature it. Bryan's leadership and commitment has given life to this new role within SLVH, now revered as essential.  
Joelle Valdez, ADN, RN, Conejos County Hospital; Joelle epitomizes the spirit of the Florence Nightingale award. She is selfless in her actions and continuously advocates for her patients and co-workers. She has a "can do" attitude enabling her to push her patients to new milestones, while maintaining an engaging and often humorous connection with her patients and their families. She leads by example and pushes her team to be the best they can be. She drives positive moral. She initiates quality improvement projects and challenges her team to perform to the best of their abilities. Joelle has a distinct way of connecting with her patients and their families that makes them feel as if they are being cared for by one of their own. She is honest, direct, and straight forward which makes her patients appreciate her even more.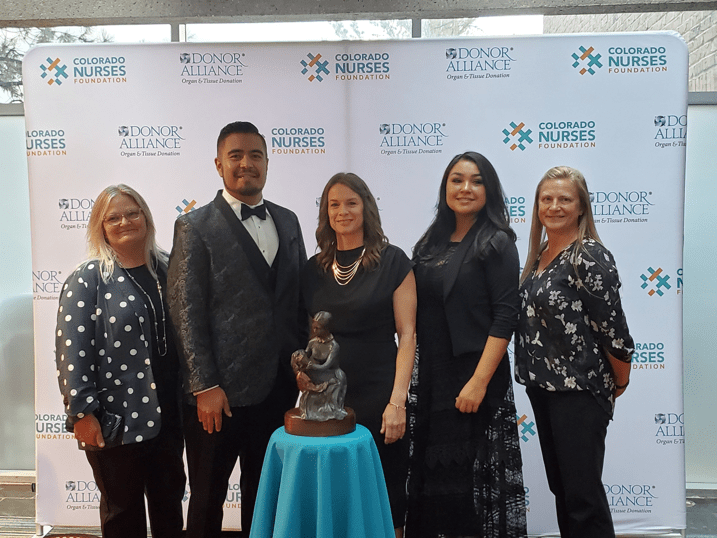 Pictured above: Roberta Bean, Chief Nursing Officer; Bryan Garcia, award recipient; Joelle Valdez, award recipient; Amber Marquez, CCH Director of Nursing; and Monica Hinds, Director of Emergency Services.