A Show-Stopping Performance Raises Funds for Cancer Services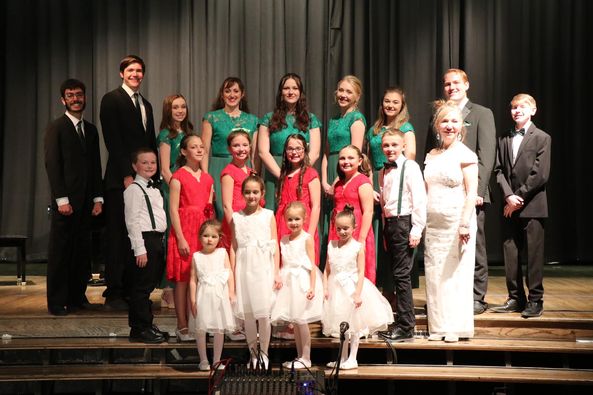 After a year's hiatus, the Sandie Wehe Studio Singers' put on a show-stopping performance for their annual holiday concert. This year's theme was Mistletoe Magic and proceeds from the performance benefitted the San Luis Valley Health Foundation's efforts to expand cancer services in the San Luis Valley.

The evening began with an elegant VIP reception with hors d'oeuvres, desserts, and a hot cocoa bar. Fans and supporters of the Studio Singers enjoyed a spirited pre-show performance as they mingled and dined with one another.

Over 100 attendees filled the auditorium at Ortega Middle School to enjoy an energized performance of holiday classics such as "We Three Kings" and "Hark! The Harold Angels Sing" as well as modern numbers such as "White Winter Hymnal" and the "Snow Theme" from Super Mario Brothers. For the first time ever, attendees were able to livestream the event from anywhere in the country.

The event raised over $10,000 which will allow the hospital to acquire a telemetry unit that will cut the time patients spend receiving treatment in half. Lightshine Music was gracious enough to donate their time running sound for the event and OMS donated the use of space which allowed all proceeds to go towards cancer services. 
Sandie Wehe is teaching her students more than music. She is teaching them about philanthropy and about the true meaning of Christmas. Over the years, her students perform, selflessly, by giving of their time and talents, not only to SLV Health's Foundation but throughout the community, such as long-term care centers.  She and each studio singer and their family members are much appreciated for their generosity.