Dwayne Candy, RN, Is First DAISY Recipient at SLV Health
Jennifer Walker, RN, SLVH DAISY Committee Chair, awards Dwayne Candy, RN in the OR/Surgery department, the first nurse excellence DAISY award at San Luis Valley Health!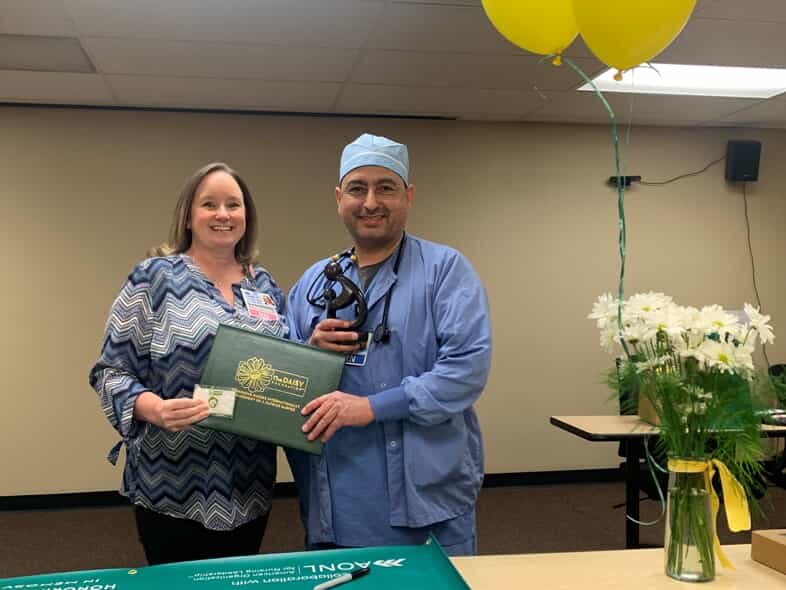 Dwayne was nominated by two separate patients!  Patient One's words of nomination: "Dwayne has been our nurse for two procedures for our family.  He is always compassionate, caring, considerate, helpful, professional, and thorough!  We can tell it's more than a job for him, but a calling. Our family has huge respect for nurses in general - the unique combination of medical knowledge and expertise along with the gift of loving compassion for people going through difficult situations. Dwayne exemplifies the best of nursing!"
Patient Two's nomination: "I am a 79-year-old cancer patient who has had three surgeries at SLV Health...Dwayne has been one of my surgical nurses during each of these occasions.  While I feel I have received good care from all, I think Dwayne exemplifies the combination of procedural competence and human warmth which has made a difficult experience more tolerable for me.  A person can do their job, but in healthcare, the dimension of empathy is essential, and Dwayne has a very mature and concerned demeanor which is comforting under stressful conditions."
The other award nominees for the first quarter of 2023 were also nominated by patients. They include Amy Oaks, Dawn Arellano, Niklas Steinrueck, Shaalynn Sanchez, and Lexi Hanna.  All nominees received a DAISY pin to recognize their nomination and celebrate the excellent patient-focused care that they provide.
Congratulations to all of our nominees, and especially to Dwayne, for their excellence!  The DAISY (TM) Award for Extraordinary Nurses became part of recognizing outstanding nurses at SLV Health in the fall of 2022. In late 1999, at the age of 33, Patrick Barnes woke up with some blood blisters in his mouth. A visit to the doctor revealed he had a dangerously low platelet count and he was admitted to the hospital. The diagnosis was the auto-immune disease ITP (Idiopathic Thrombocytopenic Purpura). Read here about why the DAISY award was created by Patrick's family.