SLM 20th Walk Run gets Tremendous Support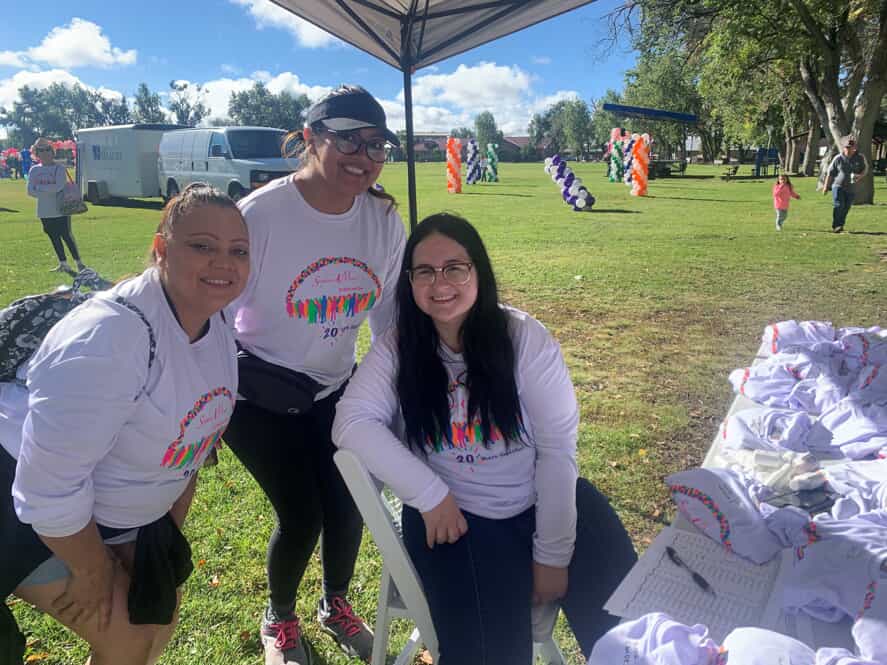 The Stephanie L. Miner 20th Annual Walk/Run was one of the biggest ever!
Over 700 shirts sold and it was estimated that around 600 walk/run participants showed up on Saturday, September 16, 2023 at Cole Park in Alamosa. It was estimated to have raised $20,000 for the MRI upgrade project.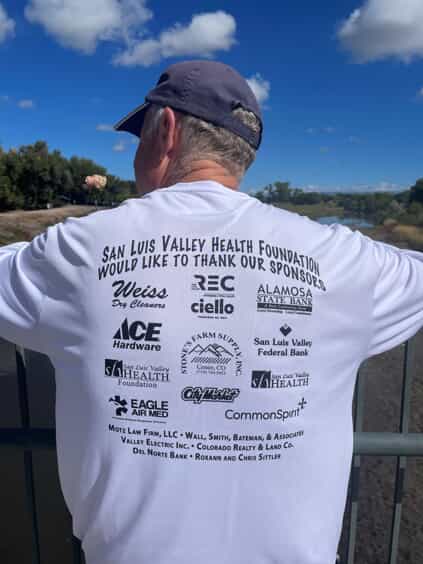 Delzia Worley Pavlovsky is the Foundation Chair and she read this speech:
"Good Morning! Welcome to the 20th Anniversary Stephanie L. Miner 5K Walk & Run. We are so excited to have you all here!
For those of you who may not remember, the funds raised during the walk from 2003-2006 were used to finance the construction and opening of the Imaging Center. The center was named after a valued community member, public school teacher, wife, and mother of four, Stephanie L. Miner. One year after delivering her fourth child, Stephanie discovered a lump in her breast. Because there was not family history of
breast cancer, it was thought to be a blocked milk duct from breastfeeding. Unfortunately, Stephanie later discovered that it was breast cancer.
Once diagnosed, Stephanie and her family immersed themselves in learning the most current information on fighting the disease. Stephanie believed the fight against cancer was best waged through an alliance of patients, survivors, and professionals.
Stephanie L. Miner represents how important prevention, early detection, and most importantly, regular physician visits are to our community residents.
The fight against this disease must be waged with education, technology, and support. With your support over the last 19 years, the funds raised have helped not only with the construction and opening of the Imaging Center but have also helped provide the following equipment:
• A 3D digital mammography machine
• Bone Density Machine
• Handicap accessible mammography chairs
• Gurneys & Ultra Sound Units
This year the funds will go to the MRI Enhancement project.
We would sincerely like to thank all of our amazing shirt sponsors, the ASU wrestlers, ASU Cross County and the ASU track team.
Also, a special thanks to Kelly Gurule, our foundation director, and her assistant Amanda Wade for all of their work with this event and other events they do. We appreciate Kelly and Amanda for being so open-minded and bringing back the famous Potato Bar with Chilie provided by Mountain Views Restaurant. Be sure to join us for lunch after the race today!
Last, we would like to offer a very special thanks to Bev Hettinger who has made her very special quilts for 17 of the 20 years. Her quilts are gorgeous and have brought in over $19,000. Let's give a special thanks to Bev!
In conclusion, thank you to YOU all, the community, for continuing to support the walk and providing funds to help the fight against breast cancer and all types of cancer. "People working together in a strong community, with a shared goal, and a
common purpose can make the impossible possible."
Bev Hettinger makes the quilts and donates them. This one, which went for $2200 at the live auction right before the race started, represented a t-shirt from each of the 20 years. She also made a quilt for Kelly Gurlue, the SLVH Foundation Director, to say thank you to her personally. It was purchased by SLVH Quality Director Margaret White and SLVH Compliance Director Michelle Gay. They will donate it to SLVH so it can be displayed and enjoyed by all.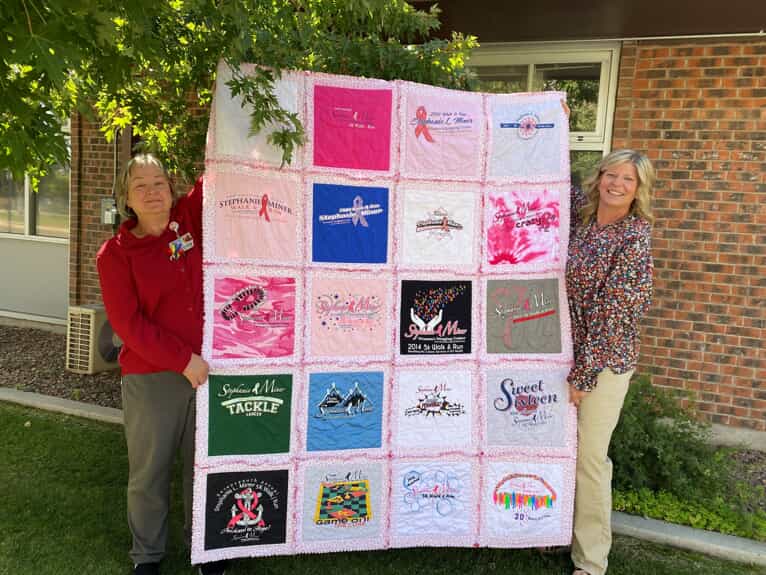 Besides the walk/run, there were bubble stations, a foam pit, balloon picture booths, and a potato bar. Chris Miner (Stephanie's husband/widower) donated the potatoes. Chili was donated by Mountain View restaurant and cookies by City Market. ASU wrestlers and cross/track teams were valuable volunteers!  The departments at SLVH that set up bubble stations along the track were Radiology, Hospital Admissions, Stuart Avenue Primary Care, Quality and Safety, IT, and the Women's Health Clinic.
https://www.youtube.com/watch?v=9tEDqjP2eKk