Accolades & Recognition
Carissa Tripi, DO, Named Preceptor of the Year
June 29, 2019, Alamosa, Colorado - The Alamosa Rural Training Track Residency Program had its first graduation ceremony Saturday, June 29, 2019 at Adams State University's Vistas Restaurant in Alamosa, Colorado. The event was a great success with attendance from program faculty, Valley-Wide and SLV Health administration and specialist preceptors. Kelly Gallegos, SLVH Administrator, congratulated and acknowledged the graduating residents, Rabaiya Ali, MD and Nataliia Baker, MD.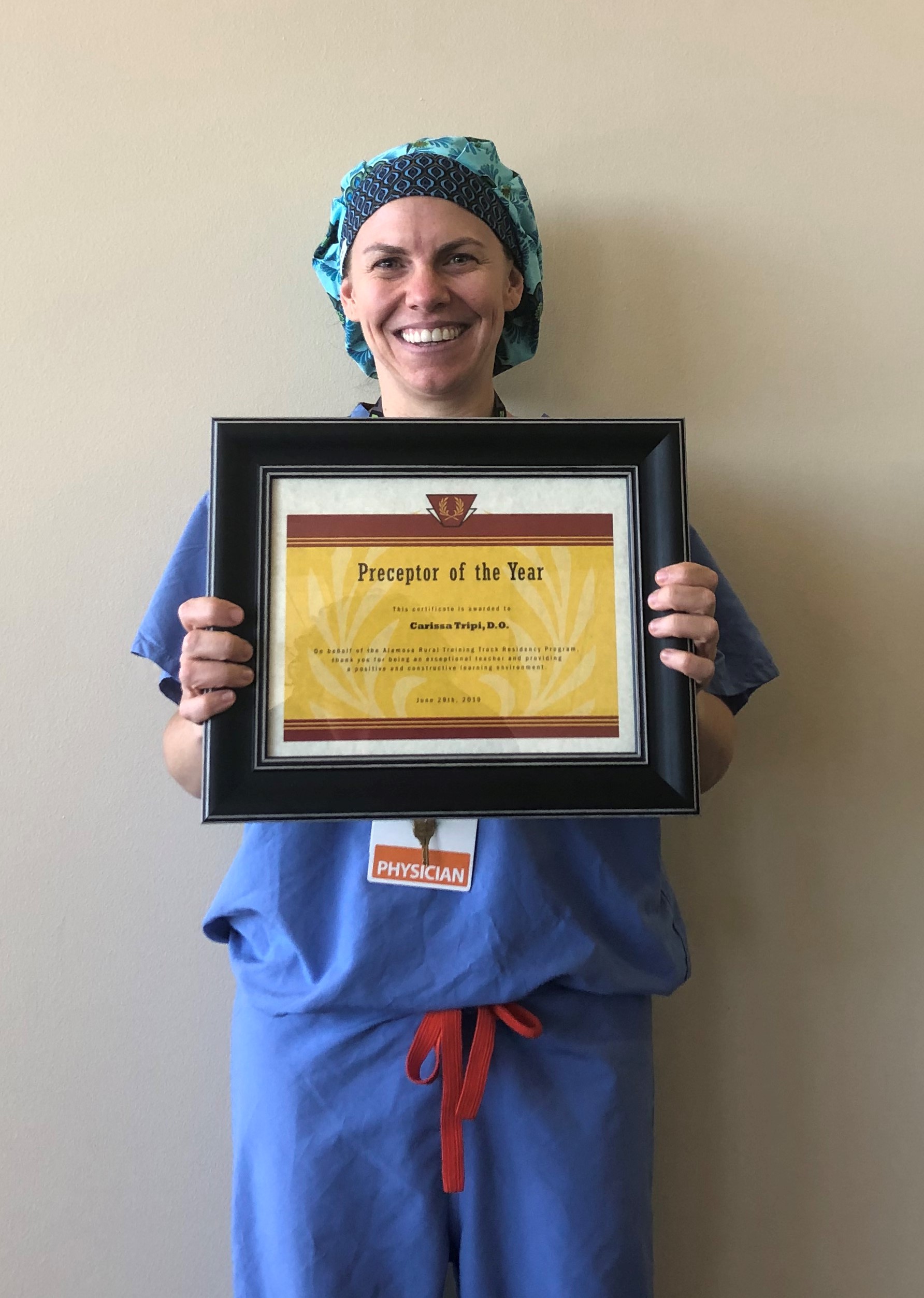 Carissa Tripi, DO, Orthopedic Surgeon for San Luis Valley Health, was selected as the residents' Preceptor of the Year. "Our Rural Track residents work with some of the best providers from Valley-Wide and SLV Health, so I consider it a great honor to be recognized among them. Precepting residents can be challenging because you have to balance taking time to teach while continuing to give your patients all the time they need during their visit, but the overwhelming benefit is that it keeps us physicians who have been out of training for a while on our toes. We have to know what the latest data and literature suggests in terms of diagnosis and treatment in order to properly train the residents so that they are as up to date as possible when they graduate. Together, we make each other better and this will continue to raise the bar for the quality of healthcare in the San Luis Valley." Carissa Tripi, DO, Orthopedics, San Luis Valley.
Alamosa High School Maroon Pride Awards SLVH's "Bumps & Bruises" Clinic
May, 2019. Alamosa, Colorado. At the end of the 2018-19 academic school year, Alamosa Maroon Pride hosts an athletic banquet and recognizes many teams, coaches, students and supporters. The San Luis Valley Health Sports Medicine Team was recognized for their commitment in providing support for the student athletes at AHS. SLV Health has collaborated with Alamosa High School for over 10 years by providing game coverage and a free daily "Bumps and Bruises" clinic at the Stuart Avenue Clinic. SLV Health's "Bumps and Bruises" clinic received the 2018-2019 Earl Steers Outstanding Business/Individual Award.
Four years ago, SLV Health developed a partnership with AHS by employing a trainer who was "embedded" at the school to take care of athletes, as well as teach and lead students interested in learning more about athletic training and wellness. The employed athletic trainer also provides home and away game and practice coverage, and helps coordinate student medical appointments with the Orthopedic, Chiropractic, Pediatric and Physical Therapy clinics at SLV Health.
San Luis Valley Health's partnership with Alamosa has also expanded to include baseline concussion testing (ImPACT), an advanced "return to play" protocol for athletes who have suffered a concussion (including considerations for the classroom) and free onsite annual physicals for any student athletes enrolled in Alamosa High School and at Ortega Middle School.
Brittany Vigil is currently the full time athletic trainer at Alamosa and she is supported by her teammates Ashley Voss and Jose Uriarte, SLVH Athletic Trainers, in covering events and providing Bumps and Bruises clinics outside of Alamosa. Dr. Aaron Polzin, SLVH's Chiropractor, is very active in helping with the Bumps and Bruises clinic as well as covering many games along with Tish Hollingsworth, PA-C, from the Orthopedics clinic. SLVH's Sports Medicine Team is honored to be recognized by Maroon Pride.
L to R:
Aaron Polzin, DC, Chiropractor for SLV Health
Brittany Vigil, ATC, Trainer at Alamosa High School
Tish Hollingsworth, PA-C, ATC, CAQ, Orthopedic Clinic at SLV Health
SLV Health Anesthesia Services and Eric Weed Voted Best Site/Instructor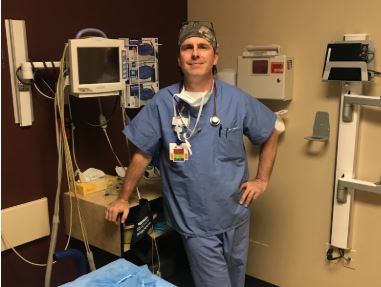 January 18, 2019. Westminster College in Salt Lake City, Utah, once again showed their appreciation to the Anesthesia Department at SLV Health at their annual graduation ceremony.Eric Weed at SLV Health's Regional Medical Center SLV Health was awarded the Clinical Site of the Year by a vote from the students. For the second year in a row, SLV Health Anesthetist Eric Weed was voted the CRNA Clinical Instructor of the Year.
James Stimpson, CRNA, DNP, is the Director of the MSNA program and had this to say about the partnership. "We have enjoyed a partnership with San Luis Valley Regional Medical Center for almost ten years and it has always been of our students' favorite clinical sites to go to. Our students are able to obtain clinical experience in a very busy rural health care facility that affords them a wide variety of cases with a diverse patient population. The hospital staff and anesthesia department are well-known for going out of their way to make the students feel comfortable and supported during their rotation away from home. With 42 clinical sites in 12 states, it's a great honor for us to be able to recognize San Luis Valley RMC as our number one requested site, which also provides the opportunity for our students to work with our number one rated Certified Registered Nurse Anesthetist, Eric Weed. We are very grateful to SLV RMC and the community of Alamosa for giving us this opportunity.
Nightingale Awards


Pictured left to right: Mona Lovato, Rio Grande Health; Sammy Martinez, VWHS; Emelin Martinez, VWHS; Jenni Cortez, SLV Health; Greta Roberts, VWHS and Lindsay Martinez, SLV Health. Not pictured- Misty Palacios, SLV Health and Heather Smith, SLV Health.
Denver, Colorado, May 13, 2017 - Kelly Gallegos, CCH Administrator, joins an esteems class of recognized nurses. She is now one of four from the San Luis Valley to be a statewide Nightingale Luminary Award Winner. Kelly continues to represent San Luis Valley Health at the highest level. Read more...

Alamosa and La Jara, Colorado, March 1, 2016 - SLV Health Registered Nurses recognized for Nightingale Awards. Nurses are nominated by their peers and patients on both a local and then a state level for recognition. Read more...
SLV Health is Awarded the 2017 Adams State University Willis Fassett Jr. Achievement for Community Involvement and Commitment to Higher Ed