SLV Health Vaccinates All Employees for COVID-19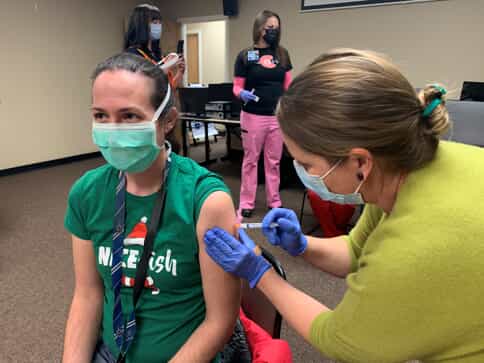 At approximately 4:15 p.m. on December 22, 2020, San Luis Valley Health Employees Tiffanie Hoover, Hospitalist Nurse Practitioner, Carla Christ, MD, and Fallon Crowther, RN, along with dozens of other employees, received their COVID-19 vaccines, supplied by the company, Moderna.
"SLV Health is proud to administer COVID-19 vaccines to our essential staff who have been working tirelessly. SLV Health is following the guidelines of vaccinating frontline healthcare workers in Phase 1, especially those like Tiffanie Hoover, Dr. Carla Christ, and Fallon Crowther who have direct contact with COVID-19 patients," commented Sadie Spencer, Director of Pharmacy at SLV Health.
San Luis Valley Health, in cooperation with the CDC, CDPHE, and local public health officials, has planned and coordinated the vaccine distribution in the early phases. "We appreciate our partners at Alamosa County Public Health. It's important that we do not waste any of the vaccines available to us, especially at the beginning, when the quantities are limited," commented Spencer. Moderna is a two-part vaccine and the booster shots will be available to these health care workers in 28 days.
Housekeepers, kitchen staff, admissions, lab, techs, nurses, and providers... all staff were welcome to attend the closed Point of Distribution (POD) set up at the Grizzly, aka SLV Health Education and Conference Center, in a safe, well-planned environment.
More information about the next phases of vaccine distributions will be forthcoming.