Veterans Affairs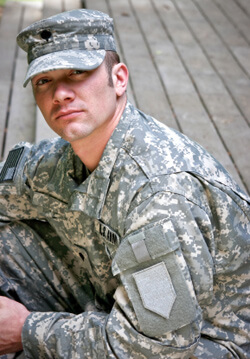 The San Luis Valley has one community-based outpatient clinic for individuals receiving health benefits through the Department of Veterans Affairs. The VA clinic offers primary care and mental health services. When the VA clinic cannot provide timely or convenient care that meets individual needs or circumstances, Veterans are offered community options, including providers at San Luis Valley Health. However, before a Veteran enrolled in VA health care can get services in the community, the VA must issue a referral. For assistance, San Luis Valley Veterans can visit the Alamosa VA Clinic and ask to speak with its community care liaison. They can also leave a secure message in MyHealtheVet or call the VA Eastern Colorado community care call center at 720-857-5988.

The San Luis Valley VA clinic is located at:

622 Del Sol Drive Alamosa, CO

(Just east of Wal-Mart in Alamosa)

The clinic is open Monday - Friday, 8:00 a.m. - 4:30 p.m.
Veteran Outreach Coordinator
If you are currently serving in the Armed Forces, or are a Veteran, or military family member and are experiencing difficulties, trauma-related symptoms, or require emotional or mental health support services, please call or email Craig Rauwolf, US Army Veteran, 719-937-3925 or rauwolfc@valley-widehealth.org.
Eligibility
Medical benefits through the Department of Veterans Affairs are available to individuals who have served in active military, naval, or air service and are separated under any condition other than dishonorable. Current and former members of the Reserves or National Guard, who were called to active duty by a federal order and completed a full period, may also be eligible for VA health benefits. If none of that applies, Veterans may be determined eligible for VA care through an income statement. See if you are eligible for VA health benefits. Learn how to apply for VA health care at VA.gov/health-care/how-to-apply.
MyHealtheVet is a website where all Veterans and their caregivers can request VA prescription refills, view lab results, schedule or cancel VA appointments, obtain copies of key portions of their VA health records, including their VA health summary, and send secure messages to VA care teams. Many of these features will require Veterans to upgrade from a standard MyHealtheVet account to a premium account by verifying their digital identify.
Did you visit the Emergency Room?
For injuries or symptoms that threaten life, limbs or organs, call 911 or go to the emergency room. Call the Veterans Affairs Network immediately upon checking into the Emergency Department (non-VA). Call 1-844-724-7842 no later than 72 hours after checking in. If timely notification is not made, TriWest will deny payment for the Emergency Department. Visit the emergency care reporting portal.
Visit the VA urgent care page. Under "downloadable resources," there's a VA ECHCS urgent care assistance card, as well as emergency suicide care and treatment factsheets. Veterans could screenshot the documents on a mobile device so they're available in a hurry and without an internet connection.
VA PACT
Promise to Address Comprehensive Toxics. If you have had exposure to toxins, set up a screening from a VA nurse by calling 720-857-2511.
The Sergeant First Class Heath Robinson Honoring Our Promise to Address Comprehensive Toxics (PACT) Act is an historic law, likely the largest ever expansion of VA health care and benefits. VA is recognizing more than 20 new presumptions of service connection for toxic exposure-related conditions, removing the burden of proof from Veterans. If you're a Veteran or survivor with concerns about a military environmental exposure, you can file a claim now to apply for PACT Act-related benefits. As an important step to prioritizing exposure-informed care for Veterans, and part of implementing the PACT Act (section 603), every Veteran enrolled in VA health care will get screened for toxic exposures. Veterans enrolled in VA ECHCS can request a screening by a nurse trained in identifying and documenting potential exposures to toxins during military service.
For all other Veteran services, visit or call:
Alamosa County
Veterans Service Officer Bill Brown
8999 Independence Way
Alamosa, CO 81101
(719) 589-1109 vso@alamsoacounty.org
Conejos County
Veterans Service Officer Robert Lockwood
12987 County Rd. G6
Conejos, CO 81129
(719) 376-6725 rlockwood@co.conejos.co.us
Costilla County
Veterans Service Officer Dave Marquez
400 Gasper St
San Luis, CO 81152
Mineral County
Veterans Service Officer Timothy Thornton
1201 N Main St
Creede, CO 81130
Rio Grande County
Veterans Service Officer Jack Rudder
3749 Sherman Avenue
Monte Vista, CO 81144
(719) 852-5118 jrudder@riograndecounty.org
Saguache County
Veterans Service Officer Michael Bondurant
405 Denver Ave
Saguache, CO 81149
(719) 655-2680 mbondurant@saguachecounty-co.gov
VA Patient Advocates
VA Eastern Colorado patient advocates are specially trained to help resolve issues with care. If you've experienced any problems that you haven't been able to resolve by talking with your care team, reach out to a VA ECHCS patient advocate.
Veterans Coalition of the San Luis Valley:
223 6th St, Alamosa, CO 81101